Archive
Browse by subject, author, or date

RIN Issues:
Summer/Fall 2007, Vol. 10, Nos. 1 & 2
Winter 2006
Vol.8, No.3

Fall 2005,
Vol.8, No.2
Spring 2001
Vol. 4, No. 1

Fall 2000
Vol. 3, No. 3
Contents: Spring 2008,Vol. 11, No. 1
Barack Obama and the Revival of Civil Religion
From the editor:
Vaticanese by Mark Silk
OBAMARAMA:
Civil Religious Revival by R. Stephen Warner.
Barack Obama draws on African-American religion to revitalize civil
religion.
Good For the Jews? by Ron Kiener
Jewish skepticism about voting for Obama.
The Wright Neighborhood by Dwight N. Hopkins.
On Chicago's South Side, it's no mystery why Jeremiah Wright is popular.
IRS: Bipartisan Tool by Marc Stern.
Complaints to the IRS are now standard political hardball.
Sally Gets Religion
The Washington Post as trendsetter.
by Andrew Walsh
God and Mammon on the Web
It's hard to cash in on strictly religious websites.
by Reid Vineis
Off With Their Head Scarves
Turkey's political meltdown over head scarves.
by Colin M. Adams.
Playing Godless
Television's dark diagnostician doesn't suffer believers gladly.
by Christine McCarthy McMorris

New books: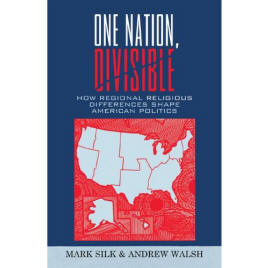 One Nation, Divisible
by Mark Silk and Andrew Walsh
The Episcopal Church in Crisis
by Frank Kirkpatrick
The Faith Factor: How Religion Influences American Elections, by John Green
Secularism and Science in the 21st Century,
eds. Ariela Keysar and Barry Kosmin
(ISSSC publication )
Religion by Region book series Center publications ISSSC publications