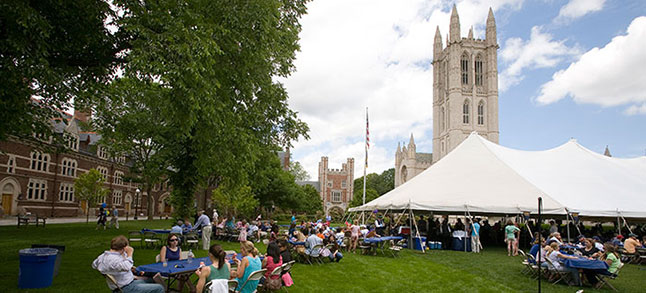 Reunion 2009
Outstanding Trinity graduates recognized by the National Alumni Association
Trinity welcomed back alumni and their families for Reunion 2009 on June 4 through 7. More than 1,100 people attended. For an online gallery of photographs, please go to http://trinity-alumni-office.smugmug.com/.
The Eigenbrodt Cup Award
Peter Kraus '79 is chairman of the board of directors and chief executive officer at AllianceBernstein in New York City. The Eigenbrodt Cup Award, which was created by Sallie Eigenbrodt in memory of her brother, David L. Eigenbrodt, who graduated in 1831, honors a Trinity graduate of national or international prominence for outstanding contributions and service on behalf of the College. Kraus received the award at his 35th class Reunion.
As chair of Trinity's Investment Committee, Kraus has used his expertise to strengthen the College's investment strategy. From 1998 until 2006, he served on Trinity's Board of Trustees. He also served his alma mater as a class agent, a member of the Reunion Gift Committee and Class Executive Board, and as program chair of the Reunion Committee. In 2004, at his 30th Reunion, Trinity honored Kraus with its Alumni Medal for Excellence.
In 2005, Kraus honored his former professor and mentor, Ward S. Curran '57, by establishing the Ward S. Curran '57 Distinguished Professorship in Economics, which Curran currently holds. In 2008, Kraus and his wife established the Jill G. and Peter S. Kraus '74 Fund for Presidential Scholars at Trinity.

The Gary McQuaid award
The Gary McQuaid Award—which was presented to W. Townsend Ziebold '84—was established by family and friends in memory of Gary McQuaid '64, in recognition of his leadership as a Trinity undergraduate and his subsequent success in the business world. The award is given annually to a graduate who demonstrated leadership as an undergraduate and has had subsequent success in the business world. Ziebold was presented with the McQuaid Award at his 25th Reunion.
Ziebold, of New York City, joined Wasserstein Perella & Company in 1988 and became a managing director in 1994. When the company became Wasserstein & Co. in 2001, he became a managing director and president of Wasserstein Ventures.
He served two terms on Trinity's Board of Fellows and is a former class agent and a Long Walk Societies volunteer. As a career adviser, he shared his insight and experience with Trinity students. He has consistently been involved in the planning of class reunions, serving on Reunion gift committees, and the Reunion Class Committee. From 2004 to 2007 he served on the National Alumni Association's Executive Committee.

The Alumni Achievement award
A Boston resident, Michael Loberg '69 received the Alumni Achievement Award, which is presented annually by Trinity College President James F. Jones, Jr., to a graduate who has achieved distinction in his or her field of work. Loberg's career in pharmaceutical research has spanned 30 years, and he was a member of the team that developed BilDil, a drug that has been praised for its treatment of African Americans and others with heart disease.