New Faculty Members (continued)
Seth Markle
Assistant Professor of History and International Studies
B.A., English and Africa and the New World studies, Tufts University
Ph.D. pending 2009, history, New York University
Dissertation: " 'We Are Not Tourists': The Black Power Movement and the Making of 'Socialist' Tanzania, 1964-1974"
Lida Maxwell
Assistant Professor of Political Science
B.A., religion, Wellesley College
Ph.D., political science, Northwestern University
Dissertation: "Law, Culture and Lawlessness in Modern Political Thought"
Dan Román
Assistant Professor of Music
B.M., guitar, Conservatory of Music of Puerto Rico
M.M., composition, The Hartt School, University of Hartford
D.M.A., composition, The Hartt School, University of Hartford
Composition: "Concierto de San Juan Bautista"
J. Prakash Younger
Assistant Professor of English
B.A., English and cinema studies, University of Ontario
M.F.A., film studies, York University
Ph.D., film studies, University of Iowa
Dissertation: "Boats on the Marne: Jean Renoir's Critique of Modernity"
Faculty Grants
Ralph Morelli, professor of computer science, has received a National Science Foundation grant for $23,146 for 2010-2011. The project is titled "CPATH CB: Collaborative: Can Humanitarian Open-Source Software Development Help Revitalize Undergraduate Computing Education?"
Jack Dougherty, associate professor of educational studies, has received a $40,000 grant from Achieve Hartford! to expand and enhance the successful SmartChoices Initiative, Achieve Hartford! 2009-2010. The SmartChoices Web site cuts through the maze of public school choices for families in the Greater Hartford area and helps them choose a public school based on their address, school themes, transportation, and performance measures
David Branning, assistant professor of physics, has received a two-year, $125,000 award from the National Science Foundation for research on "Time-dependent inhibited spontaneous emission." Earlier this year, he received a grant of $20,000 from the Connecticut Space Grant College Consortium.
Janet Chang, an assistant professor of psychology, has been awarded a 25-month, $75,000 grant from the Robert Wood Johnson Foundation for a project entitled "The Relationship between Social Networks and Mental Health among Latinos and Asian Americans: The Mediating Effects of Family Cohesion and Acculturative Stress."
---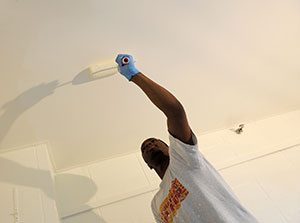 Freshening up
Tyrone Thomas '10 applies a fresh coat of paint to the ceiling of a room in High Rise. He was a participant in a new program in the Department of Buildings and Grounds in which 13 student workers spent the summer painting rooms and hallways in residence halls.