The Trinity College Fund: Every Day, All Year Long
While student tuition and fees generate 71 percent of Trinity's revenue each year, gifts to the Trinity College Fund are instrumental in helping the College achieve the levels of excellence that help define Trinity.
How instrumental? Eight percent of Trinity's budget comes from the Trinity College Fund (up from five percent just four years ago). Imagine a Trinity with eight percent less to spend.
"Every Trinity student's education would be diminished without the support of Trinity Fund donors," says Anne Stoeckle P'08, '10, who, along with her husband, Mark Stoeckle P'08, '10, last year co-chaired the Parent Directors. "Even students and parents paying full tuition receive a yearly subsidy of more than $17,000."
One way the TCF makes a difference is by helping underwrite sports at Trinity. "Our program is dedicated to the well-rounded scholar-athlete," says Rick Hazelton P'92, '93, '99, athletic director since 1982. More than half of Trinity's students take part in sports (intercollegiate athletic teams, intramurals, and club sports) and 16 student-athletes were inducted into Phi Beta Kappa in 2009. "Without support from the Trinity Fund," Hazelton says, "we would not see the kind of achievement we do, both on the playing field and in the classroom."
Building a strong sense of community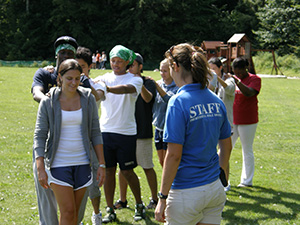 One of the ways Trinity Fund support helps define the Trinity experience is by providing a residential setting that fosters intellectual, social, and personal development. Students attend training–including team-building exercises, shown above–in preparation for serving as resident assistants, Orientation leaders, and PRIDE leaders. PRIDE (Promoting Respect for Inclusive Diversity in Education) helps new students from underrepresented racial and cultural backgrounds adjust to academic and social life at Trinity, while promoting multicultural awareness among all students.
With decline in value of endowment, importance of Trinity Fund increases
"The eight percent of the College's budget that the Trinity Fund contributes is the reason the Trinity Fund is one of our highest fundraising priorities. The Trinity Fund gives every donor an opportunity to be a stakeholder in Trinity's excellence. Large gifts are great, but the Trinity Fund receives thousands of gifts that are $25, $50, or $100. These gifts add up to several million dollars yearly, which fosters stability and keeps Trinity at the top of its game."
-Board Chairman Paul E. Raether '68, P'93, '96, '01
Discipline, determination, and dedication. That's what I've learned on the court and that's what I bring to the classroom."

Scholar-athlete Jessica Sims '10 of Peabody, Massachusetts, three-time captain of Trinity's women's basketball team, works with young children in Hartford through a Trinity internship at Connecticut Children's Medical Center, and plans a career as a speech/language pathologist.