Trinity's 183rd Commencement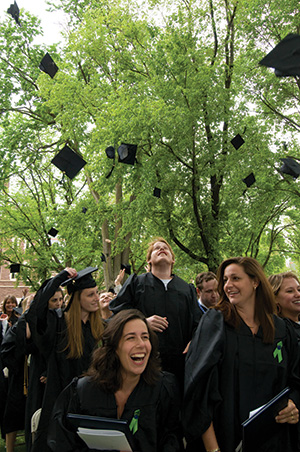 Six hundred six bachelor's and master's degree candidates received their degrees on May 17 during Trinity's 183rd Commencement. The valedictorian was Sagar Bhandari of Nepal, who graduated with a B.S. in engineering and physics, and the salutatorian was Gautam A. Samarth of India, who graduated with a B.S. in economics and a minor in Chinese language.
Three undergraduates were named Optimus students, which signifies that they earned an A- or better in all courses required for their degrees. The three were Sylvia Hristakeva of Bulgaria, who majored in economics; Dzheni Dilcheva, also of Bulgaria, who co-majored in international studies-Latin American and Caribbean and psychology and minored in Hispanic studies; and Naoto Hamashima of Japan, who majored in engineering.
The Charles A. Dana Research Professorship—the College's most prestigious award for exceptional scholarship—was granted to Leslie G. Desmangles, professor of religion and international studies. The award was also presented to two associate professors: Susan A. Masino, associate professor of psychology and neuroscience, and Beth E. Notar, associate professor of anthropology.
The Trustee Award for Faculty Excellence was presented to Pablo Delano, associate professor of fine arts. The Trustee Award for Student Excellence was presented to Cara E. Pavlak, who majored in international studies with a minor in French language and human rights, and Verdell Nicole Walker, who co-majored in economics and international studies.
The featured speaker, Joanna Scott '82, is a professor of English at the University of Rochester and a novelist and essayist who has won numerous literary awards. She received an honorary doctor of letters degree.
Marjorie Van Eenam Butcher was presented with an honorary doctor of science degree in recognition of her 33 years of mathematics teaching at Trinity, where she became the first female faculty member in 1956. In 1979, Butcher earned the rank of full professor, the first woman at Trinity to do so, and 10 years later she was named professor emeritus.
Deborah Bial, president and founder of The Posse Foundation, received a doctor of humane letters degree. The Posse Foundation, which was founded 20 years ago by Bial, is dedicated to helping disadvantaged deserving students obtain college educations. Since 1989, more than 2,600 Posse Scholars have won $265 million in leadership scholarships. Trinity currently enrolls 44 Posse Scholars.
These three extraordinary women were not selected by coincidence; Commencement marked the launch of the 40th anniversary celebration of the admission of women to Trinity.
For more information about Trinity's 183rd Commencement, please visit: www.trincoll.edu/AboutTrinity/commencement.