Baseball
Baseball's Bayer and Killeen headed to Boston Red Sox
The Boston Red Sox selected Trinity College senior RHP Jeremiah Bayer in the 30th round of Major League Baseball's 2009 Amateur Draft, and Bantam senior C Sean Killeen signed a free agent contract with the Red Sox shortly after the conclusion of the draft. Seven Trinity players, Bayer, Killeen, Jonah Bayliss (Royals, Pirates, Bluejays), Jeff Natale (Red Sox), Kurt Piantek (Tigers), Thomas DiBenedetto (Red Sox), and Tim Kiely (Angels) have now continued their baseball careers at the professional level in the past seven years. In 2006, Bayliss became the first NESCAC player in 10 years to appear in a major league game.
Baseball Hall of Fame includes NCAA champion Trinity squad in amateur exhibit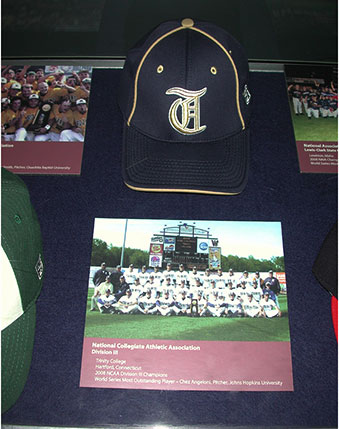 The 2008 NCAA Division III Champion Trinity College baseball team, which reached unprecedented heights that season with a record-breaking won-loss mark of 45-1 (the best-ever winning percentage in NCAA baseball history at .978), a New England Small College Athletic Conference (NESCAC) Championship title, an NCAA Division III Regional Championship crown, and the first NCAA Division III National Team Championship title in College history in any sport, has been included in an exhibit of excellence in amateur baseball at the National Baseball Hall of Fame in Cooperstown, New York. A Bantam baseball hat from the championship season and a photo of the championship team will be on display at the Hall of Fame at least through the end of the calendar year.
The Bantams, coached by Bill Decker (20th season), breezed through the NESCAC East Division in 2008 with a 12-0 mark and the regular season with a 34-0 record, breaking the Division III record for fastest start and longest winning streak with 44 wins to start the season. Trinity recovered from its first loss of the year, 4-3, to Johns Hopkins on the final day of the Division III World Series to score two runs in the bottom of the ninth inning for a national title-clinching, 5-4 triumph over Johns Hopkins in the finals. Trinity finished ranked first in both the American Baseball Coaches Association (ABCA), and D3Baseball.com National Polls. In 2009, the Bantams repeated as NESCAC and NCAA Division III Regional Champions and returned to the Division III World Series in Appleton, Wisconsin. Trinity lost its first two games in Appleton, 8-5, against Kean, and, 10-1, against Carthage.