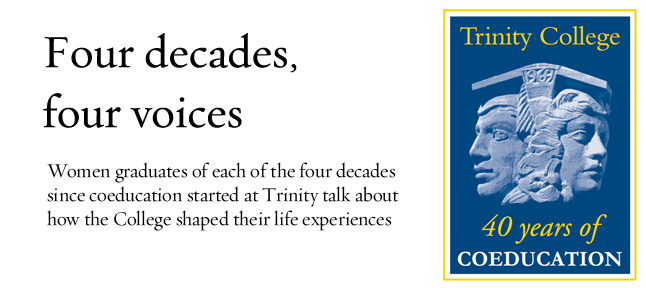 by Mary Howard
Since the fall of 1969, when the first coeducational class entered Trinity, more than 8,000 women have graduated from the College. In recognition of Trinity's 40th anniversary of coeducation, The Reporter asked four of these graduates—women dealing with the everyday stresses of work and home—to reflect on their lives and share their hopes for the future. Though they have chosen different paths, all four alumnae pull from their Trinity experiences as they seek to balance career, family, and personal life.
Phyllis Scheinberg Jay '73 feels strongly that women should be able to make life choices that feel right for them. For Jay, that meant devoting much of her life to raising her children. "I wanted to be there, not just for the 'quality time,' but for the mundane as well." Jay is mother to one son and three daughters, ranging in age from 30 to 19. Her daughter, Laura Rand, graduated from Trinity in 2003, and another daughter, Rachel Jay graduated from Trinity last May.
"Having and raising children requires a degree of sacrifice and prioritization. I saw childrearing as my first responsibility, and I feel comfortable with my decision." She adds that husband Harvey, a Manhattan dermatologist, has always been supportive.
Jay says her Trinity experiences helped her to see what was important in her life. "The bulk of what I do now relates to what I started at Trinity."
Majoring in religion and psychology, Jay had a life-changing experience while researching a paper for a religion class–she read Elizabeth Kubler-Ross' groundbreaking book, On Death and Dying. "I knew then that I wanted to care for people who are very sick," she says. Jay spent the summer before her senior year at the University of Chicago studying with Kubler-Ross. She was the Swiss-born psychiatrist's youngest student. A six-month internship at Bellevue Hospital in New York City immediately followed, where Jay studied to be a hospital chaplain. "I was the only lay person in that clinical pastoral education program." For her senior thesis, she drew upon her experiences at Bellevue and the University of Chicago in discussing the psychology and philosophy of ministering to terminally ill patients.
Jay holds a master's degree in public health from Hunter College and has worked as a hospital epidemiologist in Pittsburgh and as a triage consultant at Memorial Sloan Kettering Cancer Center in New York. Now that her youngest daughter is in college, she plans to complete her studies as a geriatric care manager and start a private practice. "I've directed my energies to helping friends and family in challenging medical situations for many years. Now I feel ready to continue doing the same in an official capacity." Jay believes that "a life of caring enhances lives, not only a résumé or an obituary."