Keyes' gifts will help purchase Chemistry Department equipment
by Kathy Andrews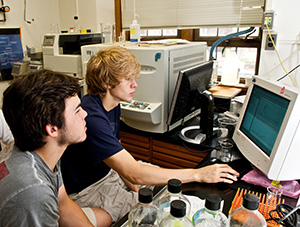 Chemistry Professor and Department Chair Tim Curran sees how impressed scientists and educators are when he mentions the equipment Trinity students use daily. He recently helped the National Science Foundation review grant proposals for mass spectrometers. "Until then," he says, "I didn't realize our mass spectrometer holdings are better than some research universities."
A "mass spec" measures the masses and relative concentrations of atoms and molecules. With costs ranging from $60,000 to $250,000, it's one of the most expensive instruments in use at Trinity. "We need to plan ahead for purchasing major equipment, and that's where the gift from Professor Keyes will come in." Lewis S. Keyes '58, who passed away last year, established two endowed funds at Trinity valued at more than $500,000.
A chemistry major who received his B.S. and master of science degrees from Trinity, Keyes studied at Princeton before joining the faculty of Old Dominion University in Norfolk, Virginia, in 1964. He was much admired for his key role in modernizing the physical chemistry laboratory at Old Dominion.
At Trinity, income from the Lewis S. Keyes Fund will be used for chemistry laboratory and teaching equipment. Income from a smaller Lewis S. Keyes Scholarship Fund will provide tuition assistance to Trinity students, with a preference given to chemistry majors. Curran says Keyes' gifts will play a very significant and ongoing part in sustaining top-quality research equipment for Trinity's chemistry students.
Career Services applauds Trinity parents' support
A ginger ale toast: front, L-R: Megan Myers Hambrick '01, assistant director of alumni Career Services and program development; Lanna Hagge, director of Career Services; Melonie Bradshaw-Webb '10; Peter Bennett '81, senior associate director of employer relations. Back, L-R: James Graeber '10; Rachel Sabbath, career specialist; Michael Wolter, career specialist; Kate Martin, office assistant; and Linda Roy, operations and project manager.
Career Services staff and students gathered this summer for a ginger ale toast to E. Burke Ross P'10 and the parent donors whose support he inspired, after learning of the success of his $100,000 Trinity Fund parent challenge. A total of 535 new parent gifts to the Trinity Fund were received after Ross made his challenge, which will provide $100,000 in support for Career Services and students.
Donors make it possible for students who otherwise wouldn't have the opportunity to attend Trinity to do so. This support means a student like me can focus on studying, not bills.

Verdell Walker '09, of Brooklyn, New York, is a recent graduate with a double major in economics and international studies, and is a recipient of the Trustee Award for Student Excellence.