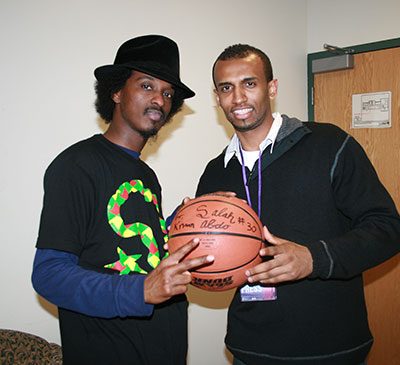 Kaynaan Warsame (K'Naan) and Salah Abdo '11
Abdo strives to be a role model, like his father has been for him, and says he finds inspiration from other Somalians he admires, such as Kaynaan Warsame (K'Naan), a progressive hip-hop artist whom Salah met at the Trinity International Hip Hop Festival this year. It is no coincidence that the musician's song, entitled "Wavin' Flag," resonates with Salah. And just as K'Naan uses music as a platform to spread hope to his countrymen, Salah uses his sport, volunteering as a basketball coach and spending time with Somalians in his community and at his alma mater, the Boys & Girls Club.
"The fact that he's a great athlete allows him to connect with young people, and he's smart enough to then stress the importance of education," Josh Kraft, CEO of the Boys & Girls Club of Boston, says. "I've always been impressed with his sense of responsibility."
Hard work, perseverance
Salah's athletic talent caught the attention of the Somalian National Basketball Team in the Somalian National Invitational Tournament in 2003 in Toronto, where the young star, then 16 years old, led his team from Boston to the championship game from among a field of 24 teams. Mohammed Guled, his long-time friend and mentor, was the coach. Guled, who has two younger brothers coached by Abdo, received a call from the National Team this summer to inquire again about Abdo's availability to play in the Arab League. In rehabilitation for an injury, he was unable to join.
Abdo graduated from St. Mark's School (Massachusetts) where he played for David Lubick, whom Salah considers a friend and an inspiration. He went on to play at the University of New Hampshire. He transferred to Trinity after seeing the positive experience high school teammate, co-captain Paul Rowe, had as a player here.
Abdo showed flashes of his talent last season, but didn't play at full strength in his first year with the Bantams, in which he averaged seven points, four rebounds, and three assists a game. Head Men's Basketball Coach SeanTabb says that his talent matches his character and that we can expect big things of Salah.
"He's an immensely talented player," Tabb says. "And once he's back to top physical and mental condition, the sky's the limit for him in this league."
The coach recognizes the value of Salah as a person as well as a player.
"We're very lucky to have him here," Tabb said. "His teammates love him, he's well respected, and he always has a smile on his face."
With his remarkable past and his hopes for the future, Salah says he has every reason to smile.