Like most mothers, Wallach wants her children to be happy. She also hopes they have a high sense of self-efficacy. "I want them to feel they can affect their world in the way they want," she says. By her own admission, she doesn't coddle. The Wallach children are not over scheduled, nor do they rule the household. "Saying you have nothing to do doesn't really cut it in our house," she says.
Wallach and her husband have been together since sophomore year at Coginchaug (Connecticut) High School, and she credits their success as a couple to a remarkable compatibility. "I am so supported by [David] it astounds me." They put their relationship first. "I love my children to death," says Wallach, "but short of an emergency, the kids' needs don't usurp our own. They'll grow up, and David and I will still be here."
In her blog, Postcards from Suburbia (postcards-from-suburbia.blogspot.com), Wallach turns her wicked sense of humor to her suburban environment. "I find a lot of things just ludicrous." She rails against an elaborate "graduation" for her junior high school child—"It's eighth grade, for God's sake, not high school," and comments on the piglets she purchased for pork, "They're kind of cute, I suppose, but they're also kind of Lord of the Flies or Animal Farm creepy."
The blog helps Wallach maintain her sanity as a busy, working mom. She also receives help from her mother, in-laws, and neighbors, who watch the boys after school. But it's lessons she received as a member of Trinity's crew team get her through her toughest days. "I know I can push through challenges at work just like I pushed through races and practices," says Wallach. "I draw a lot from those daily practices on the Connecticut River."
For Alice Barnes Tewell '04, it's not career or family that guide her life, but service and faith. In May, Tewell graduated from Princeton Theological Seminary. In August, she took her final examination for ordination as a Presbyterian minister. She hopes to seek an ordained call in the coming year.
Tewell is the youth director at the Old Presbyterian Meeting House, a church in Alexandria, Virginia. In her job, she provides care and develops ministry opportunities for youth and helps out with other pastoral duties. "Service to our neighbors is the most important part of my life," says Tewell, who strives to promote peace in her community.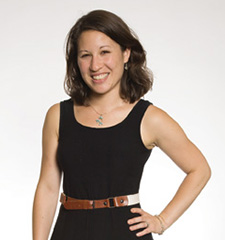 At Trinity, she was involved in most everything that Director Joe Barber had to offer at the Office of Community Service, from building a house with the College's chapter of Habitat for Humanity to leading the first Habitrot, Trinity's 5K race for Habitat.
Though she has always called herself a religious person, Tewell's faith was "reinvigorated" at Trinity. She found services with former Chaplain Daniel Heischman "very student-centered" and enjoyed studying the Bible from an academic perspective in classes with John A. Gettier, now professor of religion emeritus. Tewell was also involved with Hillel, attending service every Friday. "I am very interested in interfaith dialogue."
An Asian studies major, she did her thesis on her maternal grandparents' immigration story as influenced by missionaries in China from the 1930s to the 1950s, spending her junior year in Beijing. During her senior year at Trinity, Tewell had an "inkling" that she wanted to go into the ministry. Conversations with Chaplain Heischman; Naogan Ma, principal lecturer in language and culture studies and international studies; and Michael Lestz, associate professor of history, helped clarify her path.
As a woman entering a profession that has been largely dominated by males, Tewell is optimistic about her future. She points out that there were more women than men in her seminary class at Princeton. "While most head positions in the church are held by men, I feel that will be balancing out in the future."
After becoming certified for ordination, Tewell hopes to accept a call as a church pastor or a hospital chaplain. "I will go where Spirit calls me to go," she says.