Amazing Graceland
By Christine

McCarthy

McMorris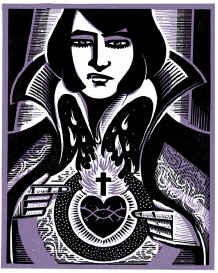 An hour past dark on the night of August 15, a summer thunderstorm of biblical proportions lit up the sky and dumped rain on the 40,000 people who were waiting outside the gates of Graceland on the eve of the 25th anniversary of Elvis Presley's death. Although fans had to struggle to keep their candles lit in the rain, nevertheless, they sang, cried, and prayed, until the last person had filed past Elvis' gravesite the next morning.
The all-night vigil began in 1977 when a 100 or so fans gathered outside Graceland upon learning that The King had succumbed to a drug-induced heart attack at age 42. This year's vigil, which was webcast live on America Online, became the most public expression of the cult of Elvis.
Journalists write about the cult as a kind of joke. Here was a pop icon who lived a life of over-the-top contradiction, and the spectacle of the rhinestone-laden decline of his later years invites mockery. Moreover, it is, by the standards of organized religion, a false religion, and when push comes to shove, the news media are still pretty conventional about what constitutes religion. But it's clear, even from less-than-insightful anniversary coverage, that something more serious is going on.
As Death Week, as Memphians refer to August 11-17, kicked off, journalists wallowed in religious language and imagery to describe the influx of 80,000 Elvis fans to Tennessee. "Presley Pilgrimage: Massachusetts Fans Join 25th Tribute to the King," ran a Boston Globe headline August 14. The Toronto Sun concluded: "For many Canadians this is the second pilgrimage of the summer. We've already seen the Pope, and now it's time to go see the King."
Pilgrims arrived well briefed on the sacred geography of the cult. The Memphis Commercial Appeal published a map of essential spots on the Via Elvis. Woody Baird of the Associated Press observed around 1,000 visitors to the two-room "shotgun shack" where Elvis was born in Tupelo, Mississippi, and described the historic place markers affixed to "the two schools Elvis attended, the site of a grocery store where people gather to play music, a drive-in restaurant he liked and, of course, the hardware store where he got his first guitar."
And then there was Elvis' Nashville recording studio, pronounced by Hubert Bauch of the Montreal Gazette as "the equivalent of the spot from which Abe Lincoln delivered the Gettysburg address, or where Jesus proclaimed the Sermon on the Mount."
Many newspapers ran humorous articles on the sudden proliferation of Elvis impersonators on the streets of Memphis—or Elvis Tribute Artists (ETAs), as they prefer to be called. "Elvis, Elvis, Everywhere (But Not a King in Sight)," as the Atlanta Journal-Constitution put it August 16. Numbering around 35,000 worldwide, these jump-suited "disciples" bring the image of Elvis within easy reach of fans.
The Montreal Gazette's Bauch, whose articles on the anniversary did probe beyond the easy punch line, pointed out that their motives were not strictly religious. "Most of them do it for the sheer love of the King, but it can also be handsomely profitable. A top-of-the-line Elvis impersonator can earn up to $150,000 a year."
According to the AP's Baird, the "official church" of Elvis Presley Enterprises (EPE) has an uneasy relationship with the ETAs, who are banned from using the carefully guarded Elvis Presley name. Better regulated are the nearly 500 fan clubs, found everywhere from Croatia to Malaysia. Sanctioned clubs must register with EPE and sign an agreement to conduct themselves "in an honorable, dignified way."
Numerous other events during Elvis Week spoke to the fans' devotion, including numerous gospel brunches and the viewing of the relics in a 53-foot truck filled with Elvis artifacts on loan from Graceland. Devotional images were on display in photographic exhibitions and in black velvet portraits. This iconic Elvis image, often crying or in a triptych with Jesus and Mother Teresa, linked him further to the suffering and early death of Jesus.
For a favored son of Southern Protestantism, there is a distinctly Catholic flavor to Elvis adoration. From Amsterdam came a MATP wire story of an Elvis statue that cried "miracle" tears on the anniversary of his death. The St. Paul Catholic Church in Memphis held its annual Elvis Presley Memorial Mass, with Father Rick Gantert quoted by the Atlanta Journal-Constitution as saying, "We thank God for the life he shared with all of us."
But the most striking examples of Elvis worship came from the fans themselves. On August 16, the day after the all-night vigil, it was their nakedly emotional testimonials of belief that filled the front pages of newspapers around the country.
Many were overcome with sadness after taking part in the graveside processional. 52-year-old Bill Rowe choked back tears, telling Keith O'Brien of the New Orleans Times-Picayune, "You just realize Elvis Presley is gone from us forever and we'll never see him again at least on this mortal plane." Some made no bones about investing Elvis with divine powers. "My friend said Elvis wasn't going to let it rain. I guess he's crying for us," Betty Skinner told Reuters.
People taking part in the vigil voiced the feeling that Elvis was, in some essential way, still alive. Bea Williams told the Los Angeles Times August 18 that "You can feel his presence here [Graceland]. I don't really understand the phenomenon myself, but you feel it." Few fans gave credit to sightings of a "resurrected" Elvis, though tales of the King spotted in England or eating a Whopper in Kalamazoo remained a favorite of journalists.
Others spoke of his Christ-like humility and love for others. "Why Elvis?" asked fan Jeannie Boudreaux in an August 18 news feature in the Times-Picayune. "He gave out love. You can just feel it. I can even feel it through my daggone television." Fans found a sense of community in gathering with like-minded brethren. "Elvis" Bishop of Hampton Beach, New Hampshire, exulted, "They're here as one big family brought together by Elvis and their love for his music." (August 16, Boston Globe).
But a good number of Elvis' Christian followers were uncomfortable with the idea of an Elvis cult. They preferred to see Elvis as something akin to a Roman Catholic saint, who did not usurp the divinity of Jesus, but could be appealed to in times of trouble. Retiree Rosina O'Connor of Glasgow, Scotland, told the AP's Baird on August 14 that, although her teenage years were troublesome, she would escape into daydreams of Elvis. "That was my space," she said, "my little corner of Heaven."
Other fans struggled to categorize their adoration. Ester Alicia Blajer of Argentina called to mind "He Touched Me," a gospel song often performed by Elvis. Blajer told the Commercial Appeal, "I don't want to sound sacrilegious, but isn't that what Elvis did? He touched us and we were no longer the same."
Celebrities were also called upon to illuminate the "meaning" of Elvis worship. Dolly Parton told the AP about the importance of Elvis in her hometown in the hills of East Tennessee. "He's considered by many to be like a religious figure, like Jesus…I don't know how to explain it, but it's there, it's real, and people love it." Bob Dylan was quoted in the Chicago Sun-Times on August 11 as saying that Elvis is "the deity supreme of rock 'n' roll religion as it exists today."
All of this was just too much for some journalists. Deborah Locke in an August 15 column in the St. Paul Pioneer Press considered Elvis worship pathological, suggesting, "Psychologists…might understand why humans refuse to let go of certain celebrities and keep them alive through rituals, gestures, products, habits and pilgrimages."
An August 13 feature in the Washington Post was more blunt: "Thursday night they'll light candles and march quietly past his grave. What are they, nuts?"
Some of the mocking tone was linked to the working class status of most true believers. Bill Montgomery wrote in an Atlanta Journal-Constitution feature that, "[T]ears were flowing from women …as their bemused husbands and boyfriends wore expressions that said 'I guess I need to be here, but I'd rather be (fishing, bowling, at a tavern, tuning the pickup).'" Portraits of fans inevitably mentioned jobs that were alien to the middle class: "a Bronx waterproofing contractor" in the New York Daily News, a "retired paper mill worker" in the Times-Picayune, and an "unemployed florist" in the New York Times.
It's an old story, according to an AP news story filed by James Patterson on August 6: "In some ways, not much has changed since the 1950s, when Elvis…had to fight for respect from critics who derided him as a white-trash aberration. In the same article, music critic Dave Marsh agreed. "He is the son of people who don't count, and he is their shining star."
Who, then, are the much-maligned faithful? Not surprisingly, according to a Harris poll released on August 12, the core group is made up of mostly women, who were original Elvis fans in the 1950s and '60s. (40 percent of all women polled considered themselves Elvis fans, as did 45 percent of all people aged 50-64.) But even for non-believers, Elvis had resonance, with 84 percent of Americans saying "their lives had been touched by Elvis Presley in some way."
Several papers noted that while fans streamed in from Ireland to Japan, the least-sighted demographic group at Elvis Week was young African Americans. Their absence may be explained in the much-quoted couplet by Chuck D. of the hip hop group Public Enemy: "Elvis was a hero to most/But he never meant shit to me, you see."
Younger people in general were at the bottom of the Harris poll in identifying themselves as fans, a fact that causes fear at Elvis Presley Enterprises. In 2001, Graceland had to lay off 15 percent of its staff due to a drop in visitors—shaking up Memphis, which counts on tourism providing $2 billion annually. Many journalists wondered if the numbers of fans would unavoidably decline. An October 2 article by Matthew Kauffman in the Hartford Courant framed the "sober reality. The King may live forever, but his core fans won't."
If Elvis worship does live on, it may be because of the singer's ability to be all things to (almost) all people. To historian Charles Reagan Wilson (Judgment & Grace in Dixie: Southern Faiths from Faulkner to Elvis), the cult of Elvis speaks to the experience of the American South in transition. To musician Mojo Nixon (who wrote Elvis is Everywhere), Elvis ushered in the sexual revolution. "Elvis wiped out 4,000 years of Judeo-Christian uptightness about sex in 15 minutes of TV." And Elvis, who famously lost his twin at birth, also has special meaning for twins: "If you speak to any twinless twin, any surviving twin, Elvis is big in their life," Peter Whitmer, author of The Inner Elvis, told the AP on August 15.
There was, however, little to no space devoted in August to Elvis' own religious background and beliefs, and to how they may have contributed to his enshrinement as a spiritual figure.
The best source for information on the life of Elvis (among the 1,400 or so books out there) is a two-volume biography by Peter Guralnick. Last Train to Memphis: The Rise of Elvis Presley, reported that Elvis first attended a small Assembly of God church in Tupelo. This Pentecostal faith, its members sometimes derided as "holy rollers," exposed Elvis to emotional, music-filled expressions of faith. Guralnick also revealed that the family "didn't attend any one church regularly." It was not until Elvis was a teenager that he joined an Assembly of God church in Memphis, where he sang in the gospel choir and attended Bible classes.
In Careless Love: The Unmaking of Elvis Presley, Guralnick investigated the eclectic spiritual curiosity that Elvis developed as he neared age 30. "In addition to The Impersonal Life, he devoured Paramhansa Yoganda's Autobiography of a Yogi, Krishnmurti's First and Last Freedom, Madame Blavatsky's translation of Voice of Silence and dozens of other books on numerology, cosmology, and metaphysics." His readings on Judaism prompted Elvis to add a Star of David to his mother's headstone. While shooting the film Harum Scarum in Hollywood in 1965, a dissatisfied Elvis began spending time at the Self-Realization Fellowship's Lake Shrine Retreat, founded by Sri Data Maya. For many years he meditated daily and followed their ecumenical approach to enlightenment, "under which the seeker of any persuasion (Christian, Jewish, Buddhist, Hindu) could find solace."
Unlike contemporaries Little Richard and Jerry Lee Lewis, who publicly agonized over choosing between Jesus and the Devil's rock 'n' roll, Elvis found no conflict in the Christian faith of his childhood and his embrace of Eastern philosophies.
This past summer, David Rosen, professor at Texas A&M University, wrote The Tao of Elvis, a book that offers 42 reflections on Elvis and Taoist principles—one for each year of Elvis' life. On August 17, Rosen told reporter Sheila Dancy of Religion News Service that "Elvis was a deeply spiritual man …who embodied the Tao—he was struggling his whole life to figure out what was his unique purpose in life, struggling to balance opposites."
Many journalists commented on Elvis' unique ability to blur the boundaries between these opposites: kitsch and high art, white and black, rebellion and tradition. Perhaps for Elvis (and for many of his fans) the boundaries between secular and sacred, and among different religions, were also permeable. Laura Emerick of the Chicago Sun-Times points out that Elvis brought the same personal engagement to whatever he sang. "Listen to Elvis illuminate the joys and sorrows of life on gospel-inflected numbers such as You Gave Me a Mountain, or how he rips it up or tears it up on rockers such as Tryin' to Get to You or Burning Love."
So, despite all the cheap sneering, Elvis does really stand for uncontainable yearning for meaning and for healing—the real live stuff of religion. Maybe next year, when fans gather for the all-night vigil at Graceland, journalists should take a closer look at the cult of Elvis.