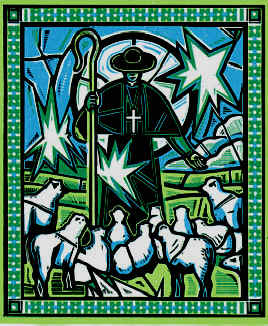 Bishops Up Against the Wall
by Andrew Walsh

The whole world was watching when the United States Conference of Catholic Bishops gathered in Dallas in June to attempt to end six months of unbelievably damaging scandal over clerical sexual misconduct and the decades-long failure of bishops to act to stop it. Seven hundred and fifty accredited journalists covered the event—more than twice the number of bishops attending.

"This is their last chance to get it right," the Rev. Thomas Reese, editor of the Jesuit journal America, told U.S. News and World Report. Jeffrey Sheler's story in the June 17 edition of the magazine opened by asserting that there was "some question whether confidence in the hierarchy—shaken by repeated patterns of abuse, complicity, and cover up—can in fact ever be fully restored."

Arriving in Texas, the bishops were greeted by publication of a three-month investigative project by the Dallas Morning News that summarized the bishops' handling of all known cases of clerical sexual misconduct. The article and a detailed accompanying database (searchable by bishop and diocese in its on-line version) asserted that two-thirds of current bishops had "allowed priests accused of sexual abuse to keep working, a practice that spans decades and continues today." In other words, while only a handful of the nation's 45,000 Catholic priests have been charged with sexual misconduct, the vast majority of the hierarchy stood accused of cover up.

The bishops knew that stakes were high and they conducted a meeting like no other in their history. Cardinals and archbishops met with victims of clerical abuse and apologized for their failings. Victims described their sufferings in a harrowing plenary session. Bishop Wilton Gregory, president of the conference, opened the meeting with a remarkably frank speech about what he called "perhaps the gravest crisis we have faced." Unlike many other bishops, Gregory focused his attention on the decisions and policies of the hierarchy. "The crisis," he said, "is about the profound loss of confidence in our leadership as shepherds, because of our failures in addressing the crime of sexual abuse of children and young people by priests and Church personnel.

"We are the ones who chose not to report the criminal actions of priests to the authorities, because the law did not require it," he said. "We are the ones who worried more about the possibility of scandal than bringing about the kind of openness that helps prevent abuse."

Then, after lengthy public and private debate, the bishops adopted a policy of "zero tolerance"—of removing all priests from ministry who had ever been accused of a single instance of any kind of sexual misconduct with minors, no matter how long ago. Left untouched was the question of whether bishops should resign or be disciplined for mishandling the crisis over the past two decades.

Did the bishops "get it right?" Had the crisis of confidence hit bottom? Despite all of the apologies and the new policy, by and large the press and public were not yet persuaded.

"The task of restoring faith in Catholic institutions isn't complete for America's bishops," the San Francisco Chronicle editorialized on June 18 in a piece that stands out for the relative moderation of its language. Calling the Dallas meeting "an embarrassment," the Chronicle declared, "There is real substance in the guidelines put forward for priests. But by putting off oversight of their own ranks, the church prelates undercut their own authority."

The Houston Chronicle lamented "the hesitancy of many bishops to deal decisively with the church's sexual abuse scandal." The paper said many are "flabbergasted" that, despite "the ugliness of widespread pedophilia, official denials, payoffs and obfuscations," the bishops engaged in "a lively debate over how lenient to be with priests who molest children."

The Boston Herald accused the bishops of settling for half measures. "It is astonishing that the members of the U.S. Conference of Catholic Bishops could listen to the painful stories of those who were abused by priests during their abruptly ended childhoods and then do what they did yesterday."

Summarizing the general view of editorial writers, the Pittsburgh Post-Gazette concluded on June 18 that there has been "as yet, no accountability on the part of individual bishops. That will have to come before the reservoir of trust can be replenished."

A LeMoyne/Zogby poll taken after the meeting and reported in the Catholic newspaper Our Sunday Visitor, found that the "laity want a crackdown on bishops." Ninety-six percent of a national sample of Catholics thought "the pope should take disciplinary action against bishops who do not remove known abusers from ministries involving contact with minors."

As a public phenomenon, the Catholic scandal of 2002 is remarkable for both its size and durability. The ongoing "war against terrorism" and the immense business scandals involving the likes of Enron and Worldcom haven't knocked it off the front page. Despite its far-flung nature and the complexity of the institutions and public policy questions involved, the scandal persisted as a full-fledged media frenzy. One measure of the scandal is that such unlikely outlets as Sports Illustrated, Business Week, and PR Week all plunged in with major stories.

Some distinctions can be drawn, however.

Between January and early April, the scandal was in its discovery phase. Coverage was driven by investigative reporting. The Boston Globe, whose Spotlight Team touched off the scandal on January 6, dominated the story. Boston was the epicenter, in large part because of the Globe's access to damning internal archdiocesan documents and also because a large number of priests and bishops who worked for Cardinal Bernard Law have been promoted and now serve as bishops in other regions. American journalists stood slack-jawed in admiration for the Globe's work, an admiration conditioned heavily by fear that Globe reporters would turn up soon in their circulation district.

By spring, the scandal was established in many parts of the country and patterns of coverage shifted. New revelations continued—indeed Catholic bishops in Palm Beach, Lexington, Milwaukee, and New York resigned because of their own involvement in sex scandals—but the center of attention shifted to the Catholic Church's national response to the crisis. That meant coverage of two major events: an extraordinary meeting of the American cardinals with the Pope and Vatican officials in Rome in April, and the Dallas meeting in June.

This shift reduced the Globe's special advantage and it gave electronic journalists a much larger part to play in the story.

Of the broadcast outlets, National Public Radio has done the best and most extensive job of covering the scandal, with reporters like Duncan Moon (NPR's religion correspondent), Scott Horsley, and others offering coverage from many American cities and from Europe. Among the television network news divisions, ABC provided the most coverage. Peter Jennings anchored a documentary "Bless Me Father For I Have Sinned" on April 3, and "Nightline" has devoted several shows to the scandal. ABC News also provided coverage on "This Week" and "Good Morning America."

In addition, the major stages of the story were also tracked on the networks' nightly news shows.

Broadcast and cable coverage of the story has been sustained not by reporting, however, but by panel discussions. This talking heads format, pioneered several decades ago by public television's "McNeil-Lehrer Report," is often interesting, and it's much cheaper than producing your own journalism. That economy is appealing, especially to the competing cable television news operations, and so, over the course of the spring, the Catholic scandal became regular fodder for the evening news and chat shows on Fox News, MSNBC, CNN, and CNBC.

Yet the Catholic scandal strained the cable format, because it works best when there are expert guests who disagree with one another. Simply put, it has been difficult to find many people ready to defend the conduct of the bishops.

A classic example of this occurred on April 11 on the NPR program "Talk of the Nation," when host Neal Conan strained to get historian Scott Appleby of Notre Dame University, a liberal, and the crusty Fr. Richard Neuhaus, editor of the "orthodox" magazine First Things to disagree in a significant way. Comments like, "I would agree with everything that Father Neuhas said," and "Well, I'd agree 100 percent with Scott Appleby" filled the hour.

On the evening cable chat shows, however, the assorted personas of the hosts did provide some variety. Alan Keyes, host of a short-lived MSNBC program called "Alan Keyes is Making Sense," argued vigorously on many occasions, with many guests, that the Holy Father could be trusted to put it all right. Brian Williams, also on MSNBC, followed the traditional sober style of the news anchor.

Over at the Fox News Network, the scandal frequently attracted the attention of the prosecutorial Bill O'Reilly and of the merely lawyerly Greta Van Susteren. If the "O'Reilly Report" conveyed barely contained rage over the conduct of priests and bishops, CNBC's "Hardball" with Chris Matthews often conveyed a distinctly Irish Catholic form of world-weary (but fairly accurate) skepticism, especially when Mike Barnicle of the New York Daily News was on hand.

On April 16, for example, Mathews and Barnicle mused over whether Pope John Paul's April intervention calling the American cardinals to Rome was "too little, too late."

"I think the danger here for the Catholic Church is that the level of expectation of American consumers of Catholicism as well as news is different than it is anywhere in the world," Barnicle said. "We're used to looking at, you know, "Hardball" and watching 24-hour cable news and reading newspaper editorials and thinking 'Oh, the media's been on this now for three straight months. Something's going to happen. It's going to change. They're going to buckle under the pressure.' But that's not going to happen, I fear."

Matthews responded: "You know, 16 years ago Cardinal Hickey in Washington put out a letter saying that he will never protect any priest involved in one of these things. That's 16 years ago, and he would never transfer one to another parish. This is a real problem."

At its least useful, this sort of coverage by conversation descended to Tucker Carlson and James Carville weighing the question "How Well Did Cardinals Handle Sex Scandal" on CNN's "Crossfire."

But, unlike their colleagues in the press, television journalists did get access to Catholic church leaders. By February, the Boston Globe was rarely receiving comment from the Archdiocese of Boston on any matter. The bishops' press office even attempted to exclude the Globe from the Dallas meeting in retaliation for printing of a draft of the bishops' proposed policy on sexual misconduct.

By contrast, Cardinal Theodore McCarrick of Washington was willing to go on CBS' "Early Show" on June 13 for a joint interview with David Clohessy of the Survivors Network of Those Abused by Priests (SNAP). Cardinal Roger Mahony of Los Angeles gave a long interview to Rita Cosby on the Fox News Network's "Fox Wire" on April 28. Cardinal Francis George of Chicago appeared on CBS' "Face the Nation" on April 28 for a lengthy discussion in which he argued that most American bishops had not knowingly moved priest predators from parish to parish.

This unquestionably gave Americans a better understanding of the bishops and their views—especially of their regrets. But it seems equally clear that hierarchs like Cardinal Adam Maida of Detroit were more willing to talk with CNN's "American Morning" than they were to submit to an interview with print reporters deeply involved in the coverage, say with Steven Kurkjian of the Globe or Adam Liptak of the New York Times.

American television reporters did bring their special brand of coverage to the world during the meeting of the American cardinals in Rome. Frustrated by the lack of public discussion, American news crews shattered the polite protocols of the Vatican City. When the Vatican could not be induced to respond to charges made by eight former Legion of Christ seminarians that a conservative and influential Mexican churchman had sexually assaulted them, an ABC news crew led by reporter Brian Ross ambushed Cardinal Joseph Ratzinger outside his Rome home. A tape of the visibly stunned Ratzinger was shown on "World News Tonight" on April 26. "Come to me when the moment is given," the cardinal slapped Ross' hand and stammered out, "But not yet."

The cardinals' Roman meeting was widely viewed as a catastrophic failure, especially on the level of public relations. Pope John Paul did attract a great deal of attention, issuing a strong statement deploring sexual abuse by priests as criminal. But there was confusion when only some of the cardinals appeared at the final press conference and because cardinals Barnard Law and Edward Egan (at that point the men under the most media pressure) never made any sort of public statement.

In fact, at the meeting, the American bishops appear to have achieved their goal of gaining Vatican approval for a uniform national policy to be presented to the other American bishops in Dallas. But the public statement that was issued afterwards, which was intended to reassure the public that the church was developing a strong policy to protect children, instead triggered a storm of complaint. In it, the cardinals apologized that "episcopal oversight has not been able to preserve the church from this scandal" and promised to remove all priests found guilty of sexual misconduct with children. But they used language drawn from canon law that, by its cool detachment, inflamed opinion rather than calming it.

"The statement issued by the American cardinals at the end of their meeting this week in Rome is, when stripped of its theological language, the sort of document that any institution in crisis might issue as an exercise in damage control," Adam Liptak wrote in a news analysis piece on page one of the April 26 New York Times. "It has the qualities of classic public relations and litigation-avoidance statements, the passive voice, the action plans, the factual quibbling and the distinctly conditional acceptance of responsibility."

By and large, American newspapers and many Catholic groups thought that the appropriate way to acknowledge responsibility was for bishops to resign. "The bishops came to Dallas wanting to talk about sexually abusive priests, but they quickly discovered that everybody else wanted to talk about them," Rod Dreher wrote on June 14 in National Review Online.

After April, the coverage tended to cluster in several ways.

One set of stories—from Indiana, Michigan, Massachusetts, Connecticut, California, and Florida, among other places—suggested a counter trend: accounts of parishes unhappy to be losing beloved priests who committed acts of misconduct years ago. Jodi Wilogren's June 16 story in the New York Times, "Bishops' Abuse Policy Comes Home to the Parish," portrayed the final Sunday Mass of an energetic and successful priest who had admitted committing an act of sexual misconduct with an altar boy in 1978. "This is a time of testing and trial, and faith will sustain me and you," the Rev. Thomas DeVito told a somber congregation at St. Mary of the Lake Church in New Buffalo, Michigan.

Another, much larger group of stories attempted to track lay reaction by canvassing Catholics leaving Mass. This yielded much that was unimpressive and uninformative. Headlines conveyed the content: "No Consensus in the Pews at Sunday Mass" (New York Times) and "Catholics Shaken, Strengthened: Area Responses Vary to Bishops Action On Priest Sex Abuse" (Washington Post).

So far, there has been little in-depth reporting about the real reactions of Catholics in their parishes. Coverage in New England, and above all the Boston area, has been an exception. On June 14, for example, the Globe began a three-part series on reactions to the scandal in St. Gerald Majella Parish in suburban Canton that included much coverage of the views of the parish council and other lay leaders.

It's also clear that lay engagement in the crisis is inversely proportional to the distance from Boston. At a point in June when the Globe was reporting independent lay meetings of 500 taking place weekly in suburban Boston, the Hartford Courant reported an audience of 300 in a downtown church and the Minneapolis Star-Tribune reported 165 in St. Cloud. Bruce Nolan of the New Orleans Times-Picayune reported miniscule attendance at a series of parish-based meetings mandated by Archbishop Alfred Hughes: turnouts of 40, 25, 1, 11, and 25—including at a parish where the priest had been suspended that month after admitting that he had repeatedly molested a child there from 1980 to 1985.

So what happens next?

· The Vatican may not approve the bishops' "zero tolerance" protocol, which takes a harder line that the policy worked out in Rome on the handling of priests who were not "notorious, serial" offenders in the past.

· Vatican approval or no, many more priests are likely to be removed from ministry. When their names are revealed, more complaints may well be received.

· Church and legal authorities are already investigating hundreds of new complaints of misconduct received since the scandal broke in January.

· A large number of civil cases are still in process, including cases with hundreds of plaintiffs against Boston priests like John Geoghan and Paul Shanley. The costs of settlements and judgments may well run into the hundreds of millions, with less insurance coverage and an enraged laity less likely to contribute.

· Lay and even clergy reform movements are picking up steam. More than 4,000 people attended the Voice of the Faithful meeting in Boston on July 20.

· Grand juries are investigating whether Roman Catholic bishops broke laws and endangered children by ignoring clerical crimes. On June 12, the New York Times' Sam Dillon surveyed where this is happening: Phoenix, St. Louis, Long Island, Cincinnati, Philadelphia, Boston, Los Angeles, Dayton, Louisville, Cleveland, suburban Baltimore, York County, South Carolina.