Cover Story

: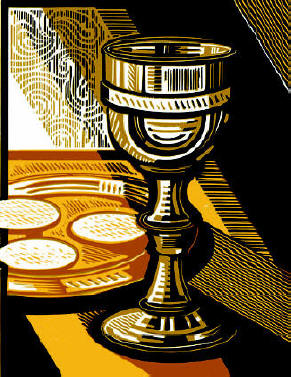 Kerry Eucharistes
by
Andrew Walsh
While usually not a prized assignment, American journalists have long trundled dutifully after candidates and office holders when they attend worship services. Public manifestations of religious observance are an unavoidable part of the ritual of American politics,
but they are usually regarded as largely pro forma occasions where little real news breaks.
But this spring, the cozy atmosphere of Sunday worship evaporated for Democratic presidential candidate John Kerry, who found himself immersed in a largely unanticipated controversy
over his position on abortion and his standing as Roman Catholic.
The story broke when Archbishop Raymond Burke of St. Louis made a statement in a television interview on January 31 that Kerry was henceforth to be banned from receiving communion in the Archdiocese of St. Louis because of his failure to publicly support Catholic teaching against abortion.
Within a few weeks, reporters were trailing Kerry to Mass. And, for many news organizations, Kerry's reception in church became newsworthy, even if nothing happened. Julia Duin of the Washington Times, for example, got a page one story on April 5 when she reported that "if the Roman Catholic senator sticks to his home Boston Archdiocese, he faces the implied threat from Archbishop Sean O'Malley of being refused communion."
When Easter came, on April 9, reporters followed Kerry to Boston's Paulist Center. Afterwards, the New York Times dutifully reported that nothing much had happened: "Kerry Attends Easter Services and Receives Holy Communion," the headline read. The "wafer watch," surely one of the stupefying developments in the recent history of American journalism, was born.
Apparently not sure of what else to do, Glen Johnson of the Boston Globe described the Easter Mass at the Paulist Center in careful detail, noting that several members of Kerry's staff and Secret Service detail also received the eucharist, that Kerry's wife wrote out a check when the plate was passed, and that "young children dressed in spring colors cried throughout the service." On May 10, Johnson was still on the watch, dispatching a story from Pittsburgh that ran under the headline: "Kerry Has Usual Communion, Democrat Upbeat at Church, Critics Fail to Alter His Ritual."
"What next?" Boston Globe columnist Ellen Goodman moaned on April 15. "Will we have a political reporter to cover John Forbes Kerry at each Sunday mass from now to November? Will there be a holy communion beat?"
Things never reached that feverish pitch, but until the "swift boat" controversy over Kerry's Vietnam service broke in August, the debate over Kerry's Catholicism and his pro-choice politics loomed large in campaign coverage—surely something Kerry never expected or wanted. In May and June, when the story was at its peak, it appeared to be spreading to involve a whole series of Catholic bishops and politicians in Colorado, New Jersey, Illinois, and other places.
In its early phases, the story was covered as an example of the increasing impact of relatively younger and more conservative Catholic bishops, like Burke in St. Louis and Michael Sheridan in Colorado Springs, mounting an offensive to "shut down cafeteria Catholicism," in the words of one Boston Herald op-ed writer.
The ball began rolling on January 31, when Burke, just installed as archbishop, gave a televised interview on a program produced by the St. Louis Post-Dispatch and KMOV (Channel 4) in St. Louis. "If Sen. John Kerry were to stand in Archbishop Raymond L. Burke's communion line Sunday, Burke would bless him without giving him communion," the Post-Dispatch's Patricia Rice reported in a news story on the program. "I would have to admonish him not to present himself for communion," Burke said.
In the context of a close presidential campaign, and in a swing state like Missouri, that seemed like big news. Rice reported then that in November 2003 Burke had, while still bishop of La Crosse, Wisconsin, sent "an official episcopal notification to the diocesan priests to refuse communion to three Catholic Wisconsin lawmakers who had refused to talk with him about their pro-abortion votes."
This was not the first time Catholic hierarchs and politicians, especially Democratic politicians, had tangled over abortion during campaigns. In 1984, Cardinal John O'Connor had rebuked then Gov. Mario Cuomo and Democratic Vice-Presidential Candidate Geraldine Ferraro for their policy of proclaiming a private Catholic identity while supporting abortion rights as a public policy. O'Connor, however, never threatened to ban Cuomo or Ferraro from communion.
In this election cycle, that may first have happened last year in South Dakota, where a local bishop warned Sen. Thomas Daschle not to call himself a Catholic, and in California, where William Wiegand, bishop of Sacramento, publicly suggested that Gov. Gray Davis refrain from taking communion because of his pro-abortion politics. Last summer Archbishop O'Malley of Boston also suggested that Catholic politicians who could not support the church's anti-abortion position should not dare to approach the communion chalice. These bishops were seen as reacting to a 2003 Vatican "doctrinal note" urging bishops to act more forcefully to uphold pro-life positions in politics, including taking action against Catholic politicians who support or vote for abortion rights.
Burke's real departure from American precedent for bishops was to name names and to suggest that individuals be publicly banned from communion—a step that few other bishops rushed to adopt. As more journalists asked more bishops about their positions, it seemed like an increasing number were taking a harder line against Catholic politicians.
At the end of April, a senior Vatican cardinal responded to questions from an American journalist by saying he thought pro-choice politicians should be banned from communion. In early May, Archbishop John J. Myers of Newark issued a pastoral letter in which he argued that pro-choice Catholic politicians had "abandoned the full Catholic faith," and would be dishonest to present themselves for "communion." While he did not name names, he was widely seen as targeting Gov. James E. McGreevey and other New Jersey politicians.
But other bishops, including cardinals Theodore McCarrick of Washington, Roger Mahoney of Los Angeles, and Francis George of Chicago made public statements that indicated they weren't prepared yet to support using denial of communion as a sanction against pro-choice politicians. McCarrick wrote in a May column in his archdiocesan newspaper that he did not want to be involved "in a confrontation at the altar rail with the Sacred Body of Christ the Lord Jesus in my hand. There are apparently those who would welcome such a conflict, for good reasons I am sure, or for political ones, but I would not."
Pro-life organizations were pushing hard for bishops to ban Kerry, and perhaps other politicians as well. "This is all about the bishops and how they choose to respond and not respond," Joe Stars, director of the American Life League's Crusade for the Defense of Our Catholic Church, told the Washington Times' Duin. "If Cardinal McCarrick and Archbishop O'Malley don't do something, Senator John Kerry and all these other pro-abortion Catholic politicians will receive communion and the rest of the faithful will think, 'Gee, It's OK to support abortion and euthanasia.'"
On May 9, the Philadelphia Inquirer reported that Bernard Kenny, the majority leader of the New Jersey state senate, was leaving the Catholic church after a meeting with his Jersey City pastor. "If every faith starts trying to impose their rules on elected officials," Kenny said, "democracy is going to be factionalized along religious lines. I will look for other options to express my faith and will probably join another Christian church."
The problem for Catholic conservatives is that public sanctions banning political leaders from communion have been used rarely in the United States or elsewhere. While arguing that "bishops have been denying communion to politicians since A.D. 390," Duin's April 5 piece cited as its chief example the action of Ambrose, bishop of Milan, against the Roman emperor Theodosius I, which she admitted was a while ago. Other conservatives recalled the case of New Orleans Archbishop Rummel, who excommunicated three Louisiana politicians in the early 1960s for resisting his decision to desegregate Catholic parish schools.
Liberals, however, stressed the novelty of the tactic. "The only way that you can separate yourself from the church is by knowingly and deliberately denying a dogma of faith," the Rev. Richard McBrien, a liberal Catholic theologian at Notre Dame University, told Daniel J. Wakin of the New York Times on May 9. "Abortion is not a dogma."
As Catholic bishops began to disagree with one another, the Kerry campaign attempted to say as little as possible about the controversy. "My oath is to uphold the Constitution of the United States in my public life; my oath privately between me and God was defined in the Catholic Church…which allows for freedom of conscience for Catholics with respect to these choices, and that is exactly where I am," Kerry told the Los Angeles Times on May 2. But a shower of developments in April and May made that hard to do.
The month opened with Kerry's Catholic defenders noting that bishops didn't seem to be singling out Republican office holders who are Catholics and pro-choice, like Gov. Arnold Schwarzenegger of California, Gov. George Pataki of New York, or former New York City Mayor Rudy Giuliani. Then they focused on Pennsylvania Senator Rick Santorum, a vocal conservative Catholic who was just then expending considerable personal political capital in an effort to swing his state's Republican voters behind U.S. Senator Arlen Spector, a pro-choice Jew, over his Catholic, pro-life opponent who seemed a weaker candidate in the general election.
Michael Sheridan, bishop of Colorado Springs, took the whole controversy up several notches on May 5 by issuing a strongly worded pastoral letter to his flock. "Any Catholic politician who advocates for abortion, for illicit stem-cell research or for any form of euthanasia ipso facto place themselves outside full communion with the church and so jeopardize their salvation," Sheridan was quoted in the Rocky Mountain News on May 15, when news of the letter began to spread outside Colorado Springs. "Catholics who vote for candidates who hold these views suffer the same fateful consequences," he continued. Sheridan also added to the list same-sex marriage, describing it as "a deviancy."
St. Louis archbishop Burke said in early June that he agreed with Sheridan, and the two staked out a joint position.
These developments mobilized Catholic Democratic politicians and on May 20 the New York Times and many other news operations reported that 48 Catholic members of Congress, including about a dozen pro-life Democrats, had sent a strong letter of protest to Cardinal McCarrick, who happened to be chair of a National Conference of Catholic Bishops committee studying the development of recommendations for bishops in their dealings with Catholic politicians. "As Catholics we do not believe it is our role to legislate the teachings of the Catholic Church," the letter said. "Because we represent all of our constituents, we must, at times, separate our public actions from our personal beliefs."
Illinois Sen. Richard Durbin, stung by the public announcement of his Springfield, Illinois home parish that he was not welcome to receive communion, commissioned his staff to prepare an analysis of how pro-choice and pro-life senators voted on issues on which the United States Catholic Conference, the lobbying arm of the nation's Catholic bishops, had taken public positions. Of 24 senators surveyed, John Kerry voted most often with the church's positions, at 60.9 percent. Durbin argued that pro-life senators, usually Republicans, voted far less often in line with church position.
Sen. Santorum, staunchly pro-life but rated in agreement with the Catholic position only 41 percent of the time, called Durbin's survey worthless. He told the New Orleans Times-Picayune that "it was a mistake to impose a ranking system that weighted the bishops' positions on environment, the death penalty, and workplace issues as heavily as their opposition to stem-cell research and abortion.
At that point, with bishops openly disagreeing, Catholic politicians in revolt, and liberals of all sorts complaining about violation of IRS laws against open political endorsements by tax-exempt organizations, the NCCB announced that it would discuss the matter at its mid-June meeting in Denver.
Religion specialists then began burrowing into the internal politics of the American bishops. Laurie Goodstein of the New York Times noted in a piece published on June 6 that Cardinal Joseph F. Ratzinger, the Vatican's chief doctrinal expert, and Pope John Paul II had begun to express concern about division in the American church. "There's nothing that the bishops dislike more than the appearance of being in disarray," Goodstein quoted the Rev. Thomas Reese, editor of the Jesuit magazine America. "They need to have a national policy because when one person denies communion and gets headlines across the country, people wrongly assume he's speaking for all bishops and he's not."
Tim Townsend of the St. Louis Post-Dispatch strengthened that argument in a news analysis published on June 13. "Some experts believe that bishops like Sheridan and Burke…may be rebuked by their colleagues when the U.S. Conference of Catholic Bishops holds its spring meeting this week in nearby Denver. The overwhelming majority have either remained silent or urged caution on the issue.
"Though bishops have autonomy over their own diocese, for the sake of unity—something experts say is extremely important to Pope John Paul II—there is often pressure put on Catholic teachers who are seen as straying from the mainstream."
Townsend then reported that Ratzinger had told a delegation of American bishops to be cautious about denying communion to politicians.
But when the bishops met, they did not emerge with a unified stance. Their statement, adopted by a vote of 183 to 6, opened with the standard forceful denunciation of abortion, but went on to say that individual bishops were entitled to choose their own methods of teaching and enforcing Catholic doctrines. "These kinds of issues are decided locally by the bishops who know the local circumstances and who have a dialogue with the individuals involved," Denver archbishop Charles Chaput told Eric Gorsky of the Denver Post on June 20. "There was really no chance there would be a national policy because it wouldn't take in the law of the church."
As journalists worked church sources more intensely to find out how the bishops would land, the common perception carried in stories began to shift. Rather than emphasizing a trend toward asking pro-choice politicians to abstain from communion or barring them completely, more reporters began to emphasize how small the group of bishops acting against the pro-choice politicians seemed to be.
In late May, phrases like "a few bishops" began to creep into stories. By mid-June the new conventional wisdom looked pretty much like the view John Leo expressed in his U.S. News & World Report column published on June 14: "It looks as though more than 90 percent of Roman Catholic bishops want no confrontation with John Kerry over his support of abortion rights—so far, only four of the 300-odd bishops said they would deny him communion and 15 others indicated serious concern over the issue."
In retrospect, the story began to look more and more like the creation of a handful of pro-life organizations that have been pressing the Catholic bishops hard. Alan Cooperman of the Washington Post was on to this early, publishing a story on May 7 with the headline, "Ad Assails D.C. Cardinal for Stance on Communion."
Cooperman reported the opening of a $500,000 advertising campaign by the Virginia-based American Life League "targeting bishops who are reluctant to punish Catholic politicians for taking public policy positions that defy the church." The first ad (published in the Washington Times, Human Events, and the Catholic weekly The Wanderer) shows Jesus in agony on the cross and asks: "Cardinal McCarrick: Are You Comfortable Now?"
The League's president, Judie Brown, said that her organization "believes that all priests and lay Eucharistic ministers who hand out communion are obligated—with or without instructions from their bishops—to refuse communion to any federal, state, or local official who is known to disagree with church teaching on abortion, contraception, stem cell research, euthanasia, or in vitro fertilization." Brown and other American Life League leaders were often quoted through the life of the story without much sense of their passionate commitment to drive the bishops into action.
On July 7, the Washington Times' Duin reported that a letter from Ratzinger "contained much stronger language than Cardinal McCarrick used last month at a meeting of the country's Catholic bishops." Quoting a document put on line by an Italian publication, Duin argued that Ratzinger actually "supports Colorado Springs Bishop Michael Sheridan" by arguing that Catholics who "deliberately vote for a candidate precisely because of the candidate's permissive stand on abortion and/or euthanasia" would be "guilty of formal cooperation in evil and so unworthy to present himself for Holy Communion."
Duin's piece argued that McCarrick had downplayed Ratzinger's forceful remarks and quoted McCarrick's comment to the bishops that the "question for us is not simply whether denial of communion is possible, but whether it is pastorally wise and prudent." Almost immediately, the U.S. bishops released a follow-up letter from Ratzinger saying the bishops' June statement is "very much in harmony with the general principles of 'Worthiness to Receive Holy Communion.'"
The point here is that many Catholic conservatives are pushing the bishops hard to deal with the diversity of Catholic views by extruding a large number of non-compliant Catholics—a position that most Catholic bishops are loath to consider, but which seems a good idea to some of the generation of Catholic bishops appointed by Pope John Paul II.
The bitter pill for conservative bishops and Catholics is that a very large percentage of American Catholics aren't with the maximalist program. A Time magazine poll of Catholic voters published in May reported that 75 percent don't approve of bishops using communion bans to discipline pro-choice politicians. About a quarter of Catholics regularly tell pollsters they support unrestricted abortion and a small majority support abortion under some conditions.
That, perhaps, is what drives bishops like McCarrick and Mahoney to emphasize teaching Catholic doctrine rather than policing the communion line. And, on balance, since the June meeting more Catholic bishops have said they won't bar politicians from communion than have backed bans. (Only the Catholic bishops of Atlanta, Ga., Charleston, S.C., and Charlotte, N.C., in fact, have done that.)
But the issue is already imprinted on the 2004 campaign, and the bishops, led by McCarrick, have already committed themselves to a post-election statement on how to balance teaching their church's Gospel while honoring separation of church and state. Conspicuous by its absence has been any substantive comment by the Democratic candidate himself on what he thinks is appropriate intervention by the leaders of his church. It seems naive in the extreme to think that this set of interventions by conservative bishops was not intended to influence the election.
In the meantime, the wafer watch goes on—and not only from the journalistic side of the street. As Rick Holmes, a columnist for the MetroWest Daily News, a suburban Boston paper, put it on May 16, "I don't know where Sen. John Kerry went to Mass this morning, but I'll bet it was a decision that required some research."