Contents Page,
Vol. 2, No. 2
Quick Links
to other articles
in this issue:

A Different Spiritual Politics
On the Beat: In Lagos, Religion's Above the Fold
Something Wiccan This Way Comes
Kosovo: A Confusion of Tongues
The Diallo Killings: Sharpton Ecumenistes
Spiritual Politicking and the IRS
Preaching the Word in Littleton

by Andrew Walsh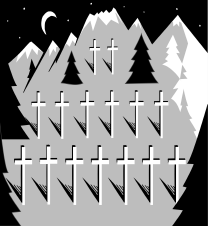 Franklin Graham, son and heir of evangelist Billy Graham, looked out over the crowd of 70,000. Speaking at the climax of a Colorado memorial service on April 25 for those slain at Columbine High School, Graham offered mourners, government dignitaries, and the assembled media his own best advice for coping with the tragedy: "Do you believe in the Lord Jesus Christ? Have you trusted him as your savior? Jesus said, I am the way, the truth, and the light. No man comes to the Father but by me."

A century ago, in an America saturated by evangelical Protestantism, nothing would have seemed out of place about Franklin Graham's question. But with that classic, unabashed, evangelical Protestant plea to accept Jesus Christ as a personal savior, Graham tossed aside one of the unwritten laws of civility that has shaped America's public rituals of mourning since World War II. Generalized theism is good; Jesus talk is not.

Vice President Al Gore-and, in fact, all of the political officials who spoke in Littleton that day-adhered to the conventions of modern civic pluralism. Gore spoke of God, alluded frequently to the Beatitudes, but didn't say they came from the Gospel of Mathew, and, for balance, quoted the Psalmist. The name Jesus didn't pass his lips.

But at Littleton that Sunday afternoon, it was Gore who was out of step. Graham had plenty of outspoken evangelical company on the stage.

"Whether you are a family member grieving the loss of a loved one, a neighbor hurting deeply for them, or a member of this community that is shocked by the evil that has been perpetrated in our midst, we your pastors urge you to seek Jesus," said Jerry Nelson, pastor of the town's Southern Gables Evangelical Free Church. Christian singer Phil Driscoll followed with a song entitled "Christ Remains," which included lyrics such as: "He's more than a religion. My provider, my protector is always watching over me. He is my comforter, my counselor, he's all I'll ever need."

After the observance, a small howl of protest went up from liberal Protestant, Jewish, and African-American religious leaders in the Denver area. The Rev. Michael Carrier, a Denver Presbyterian pastor and president of the Interfaith Alliance of Colorado, complained that Graham seemed bent on "terrorizing us into heaven instead of loving us into heaven." The service, he told Virginia Culver, the Denver Post's religion writer, "was supposed to be for all the people of Colorado and the nation to find solace, not an evangelical Christian service." Rabbi Fred Greenspahn of Littleton's Temple Beth Shalom, the only non-Christian on the program, added that the service showed a "pretty ignorant, narrow-minded streak of Christianity."

Greenspahn observed that he and Catholic Archbishop Charles Chaput, the other non-evangelical religious leader to participate, were allotted only four minutes of a 90 minutes ceremony." Even African-American clergy, who are themselves quite prone to stress Jesus in their public rhetoric, thought the service was over the top. "If you have a state memorial and Franklin Graham says you have to accept Jesus, you're asking to offend people," the Rev. Patrick Demmer, president of the mostly black Greater Metro Denver Ministerial Alliance.

A spokesman for Republican Gov. Bill Owens, who presided over the Littleton observance, tersely dismissed the complaints with the observation that the event was entirely supported by private donations. And, in fact, the complaints never gained much attention from journalists or the public at large.

As for local evangelical leaders, they were amazed that anyone could possibly object to their service. In a story aired on NPR's "Weekend Edition" May 2, Bill Oudemolen, senior pastor of Littleton's Foothills Bible Church, told reporter Dan Drayer that the memorial service broadcast on CNN created a rare and irresistible pastoral opportunity. "There was a huge audience, both local and national and even global, who were all considering the realities of life and death in a way that, perhaps, many never have. It was, therefore, "just the right time" to raise the issue of personal salvation.

Of course, for evangelicals, it's always the right time to raise the question of personal salvation. What's striking about the Littleton case, however, is not simply the reassertion of evangelical Protestant piety in public in the 1990s. It is, rather, the general sense of legitimacy and authenticity accorded a prime example of the re-emerging evangelical hegemony over American public rituals of mourning.

Local circumstances gave special prestige and plausibility to evangelical interpreters of the Littleton tragedy: Evangelical students had a high profile at Columbine High School, and a high proportion of the victims were young evangelicals. (Four of the 12 students killed belonged to Bible-study group that met daily at the school.)

News accounts reported that in many of the classrooms where Columbine students were trapped for hours, students spontaneously asked their peers if they "were religious" and could lead prayers for deliverance. As many as four students may have responded affirmatively when their peer executioners asked them if they believed in God. (Cassie Bernal and Rachel Scott, among the most discussed victims, were both killed. Two other young women survived the shootings). In addition, teacher David Scott, an active member of the congregation at Trinity Christian Center, played a heroic role in organizing the escape of many students and died a martyr's death.

Pastors of churches like the Trinity Christian Center, Foothills Bible Church, the Celebration Christian Fellowship, the Orchard Road Christian Center, and the Southern Gables Evangelical Free Church-all buoyant examples of the growing strength of evangelical Protestantism in many suburban neighborhoods-collaborate spontaneously and to a remarkable degree. They took a common approach, expressing open grief and overwhelming pride in the victims, and articulating a common theological interpretation of the meaning of the tragedy.

And, with the exception of climactic African-American Protestant funeral for Isaiah Shoels, the evangelical funerals dominated the week after the shootings. Broadcast live on national cable television, the funerals-four of them from a single church-radiated intensity. They were highly personal, emotion-charged, and offered a crystal clear interpretation of the lasting religious and political significance of the shootings as martyrdoms.

Pastors spoke frequently with the press covering the unfolding rituals of mourning: the mounds of flowers and other personal items that soon buried Cassie Bernal's and Rachel Scott's cars in the high school parking lot, the 15 crosses erected on a hill overlooking the high school that almost instantly became a pilgrimage site, the collections of personal momentos displayed at the funerals. By and large, the news coverage of these developments relayed this information without comment. But some reporters did remark on the overwhelming sense of one faith tradition's approach.

Reporter Lorraine Adams' May 2 article in the Washington Post focused mainly on the controversy over one grief-stricken parent's demolition of crosses erected in memory of shooters Eric Harris and Dylan Klebold, but she also recounted her visit to the evolving hillside shrine. What struck her most about the crosses was the profusion of flowers. "There are sealed plastic bags with long, homemade poems, signed and dated. Wind chimes, posters made by Brownie troops. Elaborate with drawings and doggerel," she wrote. "A black leather Bible, bookmarked in Romans with an orange lily. Protestant Christian expression trumps all others. There is no Koran, no Buddha, no Hebrew, no Virgin Mary. Jesus is ubiquitous, as is Scripture: 'See I will not forget you-I have carved you in the palm of my hand.'"

Have evangelical Protestants really "captured" public mourning for tragedies such as the Littleton shootings? After all, the nation's premiere ongoing site of ritual mourning-the Vietnam Veterans Memorial in Washington-does not function according to the evangelical mode. The memorial and the rituals around it reject authoritative verbalizations and interpretations. But that site was built two decades ago, and the evangelical style is now ascendant in this realm of public life.

The re-emergence of an emotionally powerful evangelical Protestant approach to public mourning is easily traceable-partly because our communal life gives so many opportunities for public mourning. The public grieving after other recent mass killings, such as those at Paducah, Jonesville, and Oklahoma City, were also shaped by strong evangelical currents.

One might object that those killings took place in the Bible Belt, where the public force of evangelical Protestantism has always been much stronger than in other places in the nation. Maybe so.

But what makes the Littleton case so interesting is that Jefferson County, Colorado is not an evangelical stronghold. Littleton manifestly has a lively evangelical culture-and one with a strong presence among adolescents-but Roman Catholics make up more than 43 percent of the county's church members. The next largest groups are Mormons and Jews, each with almost 7 percent of the population identifying with a particular tradition. The total for all evangelical groups is only about 10 percent of adherents.

So what gives?
Evangelicals are very willing to incorporate changing social mores into their patterns of worship. Despite the hidebound image of evangelicals, this has been true since at least the nineteenth century. In Littleton and elsewhere that meant great informality and personal focus characterized the funerals: coffins designed to allow friends and family to pen last messages, teddy-bears everywhere, and a structure of ministry that served up religious leaders who actually knew the victims well enough to contribute to eulogies. The massive congregations that attended the funerals at the Trinity Christian Center sang "Amazing Grace," but at Rachel Scott's funeral a tape of "My Heart Will Go On," the theme song from the movie Titanic, was played repeatedly, too.
Evangelicals have loosened up about rituals and symbols. A generation ago, a field of crosses would have screamed "Catholicism." But contemporary Colorado evangelicals are evidently comfortable with shrines, symbolic gifts, and the celebration of martyrs.
Where others are silent, evangelicals have lots to say about the meaning of death-for both the dead and survivors.
By comparison, those employing the civic pluralist mode can't say much that's concrete. Vice President Gore began his remarks at Littleton by saying, "Nothing that I can say today to you can bring comfort.... I would be misleading you if I said I understand this; I don't. Why humans do evil I don't understand."
Even the Catholic archbishop, who certainly could have summoned a great deal of sectarian rhetorical firepower, offered mourners a message that emphasized that "nothing great is achieved without suffering." By contrast, evangelical clergy began most of the funeral with flat statements that the martyred students were sitting with Christ in heaven. "Well Rachel, you have graduated early," Barry Palser, pastor of Orchard Road Christian Center, said in his eulogy. "You are a champion. You're an example to this whole world about how Jesus can touch people through people."
Another evangelical touchstone-articulated in eulogies, on Web sites, in songs and poems, and even on T shirts-is that, as Kenneth Woodword put it in the June 14 issue of Newsweek, "Cassie's death was part of God's plan to bring forth witnesses out of the Columbine killings who could then win others to Christ." Woodward's story notes that a new evangelical ministry founded in the wake of the Littleton shootings, Revival Generation, plans a series of teen rallies that stress that theme in 28 states this summer.
After two decades of relentlessly articulate evangelical self-insertion into public discourse, the public and the press have gotten used to both the white-hot style of evangelical discourse and its intentional parochialism. The Littleton pastors who shaped the rites of mourning presented to the nation didn't set out to offend the sensibilities of others. There was no pre-existent plan to marginalize Archbishop Chaput, Rabbi Greenspahn, or anyone else.
But neither are they interested in anyone else's point of view. And most people now take that reality for granted. None of the network evening news programs even mentioned Franklin Graham's altar call at the Littleton on April 25. Print reporters didn't pick up on it either. Graham's critics didn't get coverage until almost a week after the service, when they complained to the Denver Post's long-serving religion writer.
So will this evangelical style of mourning sweep away all alternate voices in every corner of the country? Assuredly not. The kind of spontaneous evangelical response evident in the heartland isn't likely to reach such mighty heights in Los Angeles or Boston. But it is a growing factor and it's clear that many evangelical leaders recognize that their general critique of American society receives a more sympathetic response when launched from pulpits at funerals than, say, at anti-abortion rallies.
"We've removed the 10 commandments for our schools. In exchange, we've reaped selfish indifference and glorified hedonism. We've told our children that they were nothing more than highly evolved amoeba, accidentally brought forth from mud pools somewhere in time. And we wonder why so many of them see no intrinsic value in life," Bruce Porter preached at Rachel Scott's funeral. "I want to say to you here today that prayer was established again in our public schools last Tuesday."
Can a religio-political gambit of that crudity win widespread support? It seems unlikely. But as Hanna Rosin reported on June 21 in the Washington Post, "three religious amendments that would have been unthinkable before the Columbine shootings breezed through [the U.S. House of Representatives] with surprising support from Democrats." One permitted the display of the Ten Commandments in public places. Another made it harder to sue a school when students pray or read Bible stories in class. And a third declared that a memorial service or statue on school property can be overtly religious without violating the Constitution."
So we'll see.