Bricks & Clicks


The Evolution of the Raether Library and Information Technology Center

by Steve Veshosky
photographs by Al Ferreira

---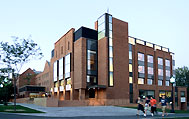 Few things in life are as rewarding as watching an idea develop from concept to completion. For three longtime Trinity administrators, just such an experience culminated in the October 2003 dedication of the Raether Library and Information Technology Center. It was during a meeting of Henry DePhillips, John Langeland, and Stephen Peterson in the early fall of 1995 that the notion of permanently linking the library with the computing center began to evolve. "We were discussing various ideas that impact both the computing center and the library," DePhillips remembers, "and a light went on somewhere. We just looked at each other for a moment and then someone said, 'Wouldn't it be great if those two facilities were close to each other? In fact, what if they were merged into one?'" The rest, as the saying goes, is history.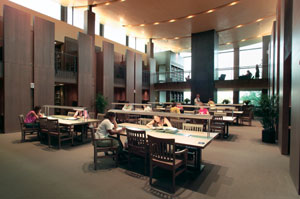 As the computer-driven technological revolution of the 1980s and 1990s advanced information and data management systems to new levels of sophistication, library and information technology professionals everywhere became increasingly aware of overlaps between their respective areas of expertise. Those relationships, while always important to both disciplines, became much more crucial amid advancements in software applications and increasingly widespread use of the Internet. DePhillips (Vernon Krieble Professor of Chemistry and former interim dean of faculty), Langeland (director of information technology), and Peterson (associate academic dean and former college librarian) were among those at Trinity who first recognized the direction in which 21st century college libraries were headed.

Following their meeting, DePhillips "floated a trial balloon" about the concept for a merged library and "learning resource center" when he addressed the Trustees during their October 1995 meeting. The Board was interested in the idea and expressed a desire to know more. And so, at DePhillips' urging, Langeland and Peterson drew up a detailed report, including how other colleges were handling library upgrades and what library science and information technology professionals thought of the concept. "We knew we were heading in the right direction," explains Peterson. "And once we had the support of the Trustees, and particularly the perspective of Don McLagan, who was then a trustee and is an extremely knowledgeable technology professional, things started to happen." Their report was subsequently presented to the Trustees during a January 1996 meeting, at which point the board agreed to take up a formal discussion of the plan.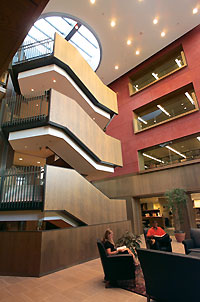 The College had already established a library advisory committee as early as February 1991, charging it with investigating the particulars of a major library renovation and expansion. The College library, which holds nearly one million volumes, more than 2,400 periodicals, and 624,800 other nonprint materials, was originally built in 1952 and later expanded in 1978. The advisory committee, made up of faculty members and students, reported their findings to the Strategic Planning Committee of the Board of Trustees in the spring of 1992. While illuminating Trinity's need for a major library renovation and expansion, the committee's report also cemented the library construction project as a priority of the College's capital campaign.

For the serious purpose of scholarship
As the process moved forward, the project went through a number of configurations in order to remain consistent with the campus master plan. Eventually, the College settled on the internationally acclaimed firm of Kuwabara Payne McKenna Blumberg (KPMB) Architects of Toronto. According to KPMB partner-in-charge Thomas Payne, "The Raether Library and Information Technology Center was designed to invite students and faculty to come together for the serious work of scholarship." Included among the numerous upgrades are an increase of more than 40 percent in total square footage and a 100 percent increase in high-speed media access spaces. Named to honor the generosity of Wendy and Paul E. Raether '68, P'93, '96, '01, the center's completion integrates a host of computer and media resources that were previously dispersed across campus, while at the same time expanding the library into a building suitable for a print collection of world renown.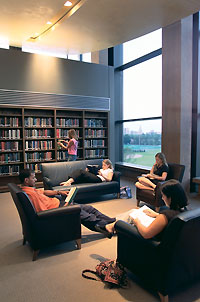 In addition to the library's regular collections, the new facility is home to the Watkinson Library, which boasts a rare book collection of approximately 200,000 volumes and selected manuscripts. The Raether Center also houses the Computing Center and Media Technology Services. "Our students now have access to the College's computer network from practically anywhere in the building," explains Langeland. "This technology provides a variety of advantages, from more efficient group projects to the ability to download text and graphics from virtually anywhere in the world."

Designed with an eye toward the future
College Librarian Richard S. Ross, who came to Trinity from Georgetown University in 2000, immediately recognized the benefits of a combined technology center and library. "The significance to the College of a first-class media and information technology center cannot be overstated," Ross says. "We now have a centrally located facility that is truly the academic heart of the campus. Our students and faculty now have access to a state-of-the-art research center." Upgrades and renovations to the building have also brought a need for additional technologically savvy staff members, in order to guide students and faculty through the facility's enhanced high-tech possibilities. The library and academic computing staffs have collaborated on a number of initiatives, and staff members are available to offer their expertise to ensure that the College community is able to take full advantage of the Raether Center's new resources. "Our people have responded remarkably well to these changes," offers Ross. "As the technology changes, our staff has to adapt. We need to make sure that we keep abreast of all the latest available technology." One way to do that, Ross suggests, would be to create an endowed fund for library science and information technology staff development. "It's imperative that we stay on top of industry advances so that we can, in turn, pass that knowledge on to students and faculty members," he says.

The Raether Center was designed to remain adaptable to technological advances. In addition to completely rewiring the older sections of the building, the renovation and expansion project includes floors, ceilings, and wall panel structures that are amenable to upgrades. "Flexibility is key in a building like this," says Langeland. "This facility was designed with an eye toward the future."