Setting a high standard of achievement in a modest, understated way.
Henry Melville Fuller '38
By Michael Bradley '98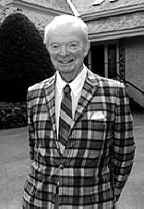 At his 50th class re-union, the late Henry Melville Fuller '38 wrote, "I am always grateful to Trinity College for my education, and for friends I made there and in Hartford." In October of 2001, the full extent of Fuller's appreciation became clear, upon Trinity's receipt of an unprecedented $39-million bequest from him—the largest private gift in the College's 178-year history.
"An unrestricted contribution to the endowment is the finest tribute and most precious gift that can be made to the College," says Ronald R. Thomas, acting president, in announcing the gift. "Henry's generosity is not only an expression of his appreciation of his experience at Trinity, but of his confidence in the future of the College. He encouraged Trinity to `aim high and hope for the best,' and his wishes will certainly raise both our aims and our hopes. This gift will have a dramatic impact on the campus and on its students for generations to come."
Fuller was born in 1914 in Manchester, New Hampshire, the great-grandson of Aretas Blood, a famous New Eng- land industrialist who came to the town in the 1800s to manage the Manchester Locomotive Works, then a division of the textile giant, Amoskeag Manufacturing Company. Blood became the owner of the Manchester Locomotive Works after it separated from the textile company in 1854.
Fuller received his bachelor of arts degree in English from Trinity in 1938. Following graduation, he attended Magdalene College at Cambridge University, where he studied economics. Upon the outbreak of World War II in September of 1939, Fuller returned to the United States, where he took a job at Aetna Life & Casualty in Hartford.
Less than a year later, he joined the U.S. Navy and volunteered as an ensign assigned to hazardous armed guard duty on merchant ships. Fuller served in the Gulf Coast and the North Atlantic before being transferred to a destroyer escort in the Pacific, which traveled to the China Sea, Korea, Okinawa, Shanghai, and the Philippines.
After the war ended, Fuller took a job in the credit department of the Chemical Bank in New York from 1946 to 1949. He then followed his interest in securities and moved to the Wall Street brokerage Wood, Walker & Co., which merged with Legg Mason, Inc., of Baltimore in 1971. He remained with the firm through its merger and continued to serve as a leading stockbroker until his retirement in 1993.
Fuller's passion for collecting art began in the late 1950s when he took an interest in Hudson River School paintings. He also began to research lesser-known 19th-century painters, which led to his broad interest in Americana. Claiming that there were few good "finds" left after 1970 to add to his collection of paintings, he began collecting antique glass paperweights—an endeavor that resulted in what the Currier Gallery of Art in Manchester, New Hampshire, claims to be one of the most important collections of American and European glass paperweights in the country. Always a selfless patron of the arts, Fuller donated his entire collection to that museum following its exhibit there in 1993, telling a reporter at the time, "I couldn't see taking them back. I didn't want them in a garage somewhere, or in trunks."
Across a span of 30 years, Fuller served on the executive committee of the Trinity College Alumni Association and in 1968 received the College's Alumni Medal for Excellence. He made other significant gifts to the College over the years, including to the Library Fund, the Alumni Fund, and the Friends of Art. In 1987, he established the Fuller Endowment in Fine Arts for an annual art history lecture series. According to former president Evan Dobelle, "He understood that his resources would make a tremendous difference. He was all about validating other people because he, himself, felt validated. He was only hoping that any thought that he had or any financial support he could give would be used by people with a creative edge to help other people."
In October of 2001, Trinity posthumously awarded Fuller the College's highest honor, the President's Leadership Medal, in recognition of his outstanding career, his support of art, and his commitment to the advancement of the College. In his commendation to Fuller, Thomas said, "Throughout his life he retained his gentle good humor, his concern for others, and his wide-ranging curiosity."
Fuller's bequest, one of the largest bequests in the nation to be given to an educational institution in recent years, represents 12 percent of the College endowment at its current market value and presents an opportunity for Trinity to accelerate progress toward the realization of its strategic plan. A portion of the gift will be used to fulfill an earlier one-million-dollar pledge by Fuller to support the Library and Information Technology Center expansion and enhancement project.
"A ringing endorsement of the College's commitment to academic excellence, this remarkable gift is impressive evidence of the depth of Henry Fuller's love for his alma mater," says Thomas S. Johnson, chairman of the Board of Trustees.
Fuller's bequest will be added to the College endowment, establishing the permanent Henry Melville Fuller Fund. Income from the fund will be used in perpetuity for general College purposes, providing Trinity with the resources to meet some of its highest academic priorities and strategic plan initiatives. In addition to the unrestricted cash bequest, Fuller also gave the College his extensive collection of Russian books and artifacts, including a pre-revolution Romanov family photo album.
Fuller's estate, valued at approximately $86 million, also made gifts to the Manchester Historic Association, Manchester, New Hampshire; Dartmouth Medical School; and the Currier Gallery of Art, of which he was a trustee. He resided in Manchester, New Hampshire, at the time of his death on August 4, 2001.
"He is remembered by his colleagues as a man of remarkable intelligence, cultivation, and gentility; as a man who never raised his voice, and yet expressed himself effectively," Thomas says.
Fuller's foresight and spirit of giving are perhaps best illuminated by a statement he made for his classmates at his 50th Reunion in 1988. "I usually look ahead, rather than reflecting on the past," Fuller said. Indeed, this vision will remain forever associated with the memory of Henry Melville Fuller.