The Trinity College Field Station
at Church Farm

By Michael Bradley '98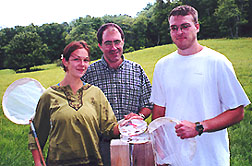 Even while garnering praise for efforts to invigorate the immediate neighborhood surrounding its campus, Trinity has embarked on another precedent-setting effort in Ashford, Connecticut, to preserve and renovate a historic site that has become home to the Trinity College Field Station at Church Farm (TCFS). "This is the first time in the College's history that we've had a resource such as this," says Scott Smedley, assistant professor of biology (pictured center, right, with students Crystal Piper and Albert White IDP '02) and one of the forces behind the TCFS at Church Farm. "This is a site that can function as a natural laboratory for classes, faculty members, and research students with environmental leanings."

The TCFS was established in late 1999 when Joe and Dorothy Zaring donated portions of their historic property to the College. The Zarings, who had no prior connections to Trinity, were approached by the College in 1999 about their intent to donate the land, following their search for an institution they felt would preserve the property while taking full advantage of the site's educational potential. The site, the longtime home of Dorothy Zaring's family, the Churches, includes a historic house that dates as far back as the 1700s and a barn that was built in 1895. Both structures are on the National Register of Historic Places. The field station comprises 256 acres, 152 of which are held by the College. The remaining 104 acres are held by the Joshua's Trust, a land trust dedicated to the preservation of open space in northeastern Connecticut. The Joshua's Trust has made its holdings available for the College's use.

"I'm not aware of such a relationship between a land trust and a liberal arts college," Smedley says. "We're looking forward to exploring creative ways to meet our mutual goals in that area and using the land for scientific and educational purposes."

The farm is a rural remnant in the Boston-to-Washington corridor, located in an area referred to by pilots as "the last dark valley," for its atypical darkness and minimal development.

"Within a 10-mile radius of the field station there are just over 50,000 acres that are either publicly or privately preserved or large tracts—greater than five acres—of active farm land," Smedley says. "That rural setting surrounds us with a beautiful area that we can study."

The three-fold mission of the field station, as outlined in its annual report for the year 2000, is to promote the land's use for: 1) research in the natural sciences, especially those related to the environment; 2) a wide range of educational endeavors with an environmental emphasis, but not necessarily limited to natural sciences; and 3) conservation of open space.

A site ripe with scholarship

During the site's first full year of operation in 2000, the TCFS at Church Farm hosted six Trinity science courses and two secondary school-level courses from the Greater Hartford Academy of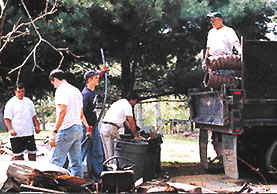 Math and Sciencein the Learning Corridor. That same year, eight faculty research projects were launched at the site by teams of faculty members and their students.
Craig Schneider, Charles A. Dana Professor of Biology, initiated two of those projects. "I had one research student, Rebecca Thibault '01, begin a survey of filamentous benthic algae at five sites on Church Farm and Joshua's Trust. Among other things, she found a few species not yet known from Connecticut!" Schneider says. He also submitted a research paper with his honors research student Daniel McDevit '01 on earthworms as possible sources of dispersal of the freshwater algal genus Vaucheria.
That same year, Smedley launched a project involving moths, in which he was assisted by Albert White, IDP '02 and Loren Edge IDP '04 and another involving caterpillars, in which he was assisted by Amy Aieta IDP '03, Jose Arce IDP '02, Katie Lafleur '02, and then-Learning Corridor high school senior Crystal Piper. Smedley also conducted an oral history research project at the farm with the help of Jennifer Carvahlo '01.
"In our land-use history investigations, we're looking at how people have interacted with that landscape over the past few centuries," Smedley says. "There are records of that area that go back to 1715. We're trying to come up with as much information as we can as to how land was used and how those different activities have affected the environment and landscape that's there today."
National grants and programs
Smedley, along with Morrison, Schneider, and Senior Lecturer and Biology Lab Coordinator Michael O'Donnell recently prepared a grant proposal to the National Science Foundation (NSF) to fund the development of a site plan for the TCFS at Church Farm. Based on this proposal, the NSF awarded a $25,000 planning grant to the College in September. This seed money, Smedley says, will fund development of the station's strategic plan through a series of site visits to established field stations and three workshops to be held at Trinity and the TCFS.
In her notification letter to Smedley, Judith Skog, the NSF's program director for biological field stations and marine laboratories, remarked "competition for funding is extremely intense these days, and the success of your proposal is a mark of high esteem for your work by your peers in the scientific community."
Smedley says the College's success at this early stage in the grant process may better position the College as it competes for larger grant monies in the future. Miller Brown, dean of faculty, credits Smedley for his work thus far on the TCFS and the grant proposal. "He's been quite enterprising," Brown says.
Brown says the College's field station at Church Farm boasts exceptional biodiversity compared to similar field schools at other colleges. "It's a gem," he says. "It's just an exquisite example of biodiversity." This biodiversity has allowed the College to embark on two national monitoring programs at the site.
Joan Morrison, assistant professor of biology, is leading Trinity's participation in the Monitoring Avian Productivity and Survival (MAPS) program—a cooperative effort among public agencies, private organizations, and individual bird banders in North America to operate a network of constant-effort mist netting and banding stations during the summer breeding season. The MAPS program was established in 1989 by the Institute for Bird Populations (IBP).
"MAPS data have been used in numerous conservation and management planning documents," Morrison says. "MAPS also provides unique opportunities for students to participate in meaningful conservation research, learn about issues of declining biodiversity, and learn more about the birds themselves." Morrison says long-term data obtained via MAPS netting at TCFS will provide useful information about the local area's bird-life as well as how ongoing management of habitats in the area may influence the dynamics of bird populations there.
The second program is the North American Butterfly Association (NABA) butterfly count. This past summer, Smedley and students conducted an inventory of various butterfly species to attain a preliminary assessment of the species diversity at the site. The goal, Smedley says, is to develop long-term databases to study these insect populations over time.
Smedley notes that Trinity is one of only three schools in southern New England that has a field station affiliated with the Organization of Biological Field Stations (OBFS). He says that, despite its concentration of more than 140 colleges and universities, the region has few field stations—a circumstance he hopes will enable Trinity to provide outreach to other academic institutions and experts from a variety of fields.
Smedley says that once the comprehensive strategic plan for the site is finished, the College will apply for a $500,000 matching grant from the NSF. These funds would aid the construction of an environmental teaching and research facility at the TCFS. He hopes to see the field station become an even more integral component of the College's academic offerings, as well as a key asset to the proposed addition of an environmental science major.
"This clearly will be a drawing card for prospective students who have interests in the environmental realm," Smedley says.