By Michael Bradley '98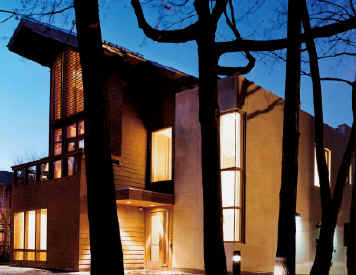 The recently completed Zachs Hillel House is the newest addition to Trinity's multicultural programs, and it has already proven to be a striking expression of the vitality of Jewish life at the College. The $2.8-million facility is located on Vernon Street, close to the Asian American Student Association, La Voz Latina, and the Umoja House.
Says President Richard H. Hersh, "While I was being considered for the Trinity presidency, my wife Judith and I walked the campus one Sunday and noticed the beautiful Zachs Hillel House—a pleasant surprise! It was only a few decades ago that Jewish students were not welcomed on many campuses in this country, much less afforded such a wonderful place in which to gather with Jews and non-Jews alike. The Trinity campus, as well as our larger community, will be enriched by the presence of this new facility, its programs, and the larger spiritual conversations that I am sure will echo from its lively gatherings."
The 8,000 square-foot facility was designed by the award-winning Boston-based architectural firm of Leers Weinzapfel Associates and completed in early December, 2001. The building's exterior was carefully styled to reflect its relationship with the local and global communities, with limestone representing the facades of buildings in Jerusalem and red cedar shingles to compliment the character of the surrounding neighborhood. Offering a complete kosher kitchen, a large dining room, a library, a recreational area, a living room, and several smaller meeting rooms, the Zachs Hillel House has quickly become a thriving center for Jewish cultural and social events, lectures, religious services, and kosher meals.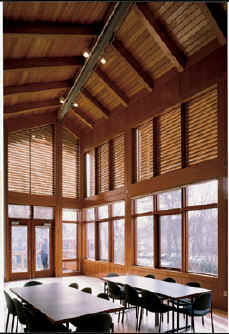 Lisa Kassow, director of Hillel, says the new facility will serve a variety of academic and social needs related to Jewish life at Trinity.
"I think the building really changes the reality of Jewish life on campus," Kassow says. "It becomes a real draw for potential Jewish students and their families."
Ron Kiener, associate professor of religion and a member of the Hillel advisory board, says the new house is "something the community will be proud of and will be able to partake in—a welcome home for everyone." Says Kiener, "It's a really important symbolic statement. This facility says Jews are a welcome component of this campus."
Henry Zachs '56, has been a central figure in the completion of the Zachs Hillel House and a generous supporter of Jewish and multicultural life at Trinity. In 1999, Zachs established a challenge grant to stimulate giving to the Hillel House, the Hillel Endowment, and the Jewish studies program. By the time the building opened, Zachs had given more than $2 million toward the construction of the new Zachs Hillel House and $200,000 to fund renovation of the La Voz Latina and Asian American Students Association houses on Vernon Street.
This commitment to Trinity's multicultural resources comes at a time in the College's history that has been marked by positive diversity initiatives. In the College's 1998 Strategic Plan, a key objective was to "promote a climate that values and celebrates diversity and an academic culture, supported by educational programs of the highest quality, that will attract and retain talented, committed teacher-scholars and students who are prepared and motivated to take full advantage of Trinity's signature strengths." According to Karla Spurlock-Evans, the College's dean of multicultural affairs, "Trinity has clearly established itself as an institution that recognizes the value of attracting and sustaining a diverse community of students, faculty, and staff."
For more than half a century, Hillel has been a part of Trinity life. The largest Jewish campus organization in the world, Hillel consists of more than 500 regional centers, student organizations, and campus foundations. Named after a first-century sage who moved from Babylonia to Palestine and who founded a school of thought based upon the concept "love and pursue peace, and by loving our fellow creatures, may we bring them to Torah," Hillel offers Jewish students, faculty members, and staff members an opportunity to create a Jewish community on campus, to celebrate Shabbat and holidays together, and to face challenging contemporary issues together.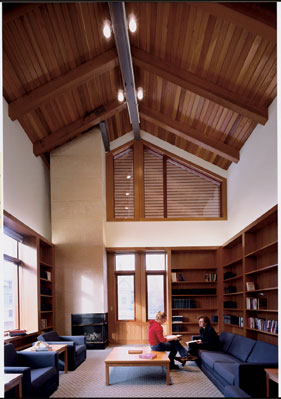 Hillel operates with a constitution and a board of student officers. Two co-presidents share the responsibility of leading the organization, preparing and leading services, and planning events along with Kassow. Students meet weekly to discuss and plan programming for both on-campus Hillel events and other events that are organized with the cooperation of Hartford-area groups.
One such event is the Greater Hartford Jewish Film Festival, which was founded by Kassow in 1996. Presented by Trinity, the Wadsworth Atheneum, and the Greater Hartford Jewish Community Center, the film festival includes Trinity students in planning and implementation of the week-long event, which presents screenings at several greater Hartford locations. The festival also provides students an opportunity to attend discussion programs focusing on the international Jewish experience. Trinity faculty members from a variety of disciplines in the humanities put the films in context for audience members in post-film discussions.
The social and spiritual richness of Jewish life at the College—coupled with a Jewish studies program that distinguishes Trinity as one of only a few small liberal arts colleges to offer such a major—has not only enhanced the lives of current students, but promises to attract interest among prospective students in the future.
"Jewish life on campus has taken a turn that I would never have imagined," says Sara Pflantzer '04, Hillel co-president. "It's a completely new outlook on what Jewish life at Trinity means. People are learning about Judaism who wouldn't learn about it otherwise. Through Jewish studies classes, Shabbat at the Hillel House, lunches with faculty members, and other programs, we've been able to excite people about Judaism. It's wonderful."
Pflantzer says that while Trinity's Jewish population may be smaller than that at larger institutions, the ratio of Jewish students at Trinity actively involved in Hillel events is exceptionally high. "If I were a senior in high school and I heard about what was going on at Trinity, I would be excited to come here," she says.
Kassow says she hopes that the Zachs Hillel House will continue to hum with activity and exemplify the Jewish concept of Tikkun Olam, or "repairing the world."
"The fact that the building is here gives us the possibility to respond to what's going on in our world, both locally and internationally, and to what's going on in Israel," Kassow says. "I would love for this to be the site of all kinds of community service programs in the future."