By Michael Bradley '98
---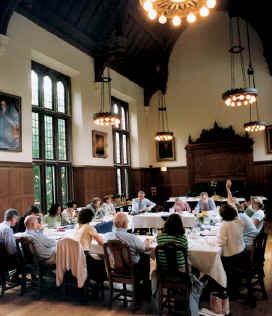 Should Trinity adapt a "core" curriculum of courses required of all students? Is too much, or too little, emphasis being placed on the major? Should there be academic departments? What do students need from a liberal arts education? These are just some of the questions being explored as part of a comprehensive curricular review process currently under way at the College. This review will not only examine the curriculum in a traditional manner, but will also explore any and all aspects of student life that impact on the classroom, and, conversely, those aspects of the classroom that impact on student life. This is a review of the Trinity College "classroom," in the broadest sense of the word.
The Reporter sat down with President Hersh and Dean of Faculty Miller Brown, who is also chair of the Curricular Review Committee, and asked them to share their thoughts on this significant moment in Trinity's history.
An Interview with President Richard H. Hersh
The benefits of the curricular review may be clear to those of us on campus, but how should the alumni community expect to benefit from such a process?
We're not just talking about what courses need to be taken, the sequence of courses, or the requirements. We are looking at virtually everything we do on campus, in class and out. We must look at not only what we teach, but also how we teach, because how we teach is just as important as specific subject matter. Curricular review deals with all the variables that make this an academic institution—all the big questions are open for exploration. What is worth teaching, for example? Or what ought to be learned? And how best can we teach?
When I say Trinity's curricular review entails looking at virtually every aspect of campus life, that also includes exploring the degree to which social life here affects academic life. We're also including a review of the student and faculty culture under this umbrella. That's a lot more than what is normally understood to be a "curricular review."
Alumni feedback is extremely important in all of this. We want to hear what alums' most powerful experiences were at Trinity so we can better understand which aspects of the College prepared people for successful lives. In the end, alumni can expect that we will provide a much more powerful educational experience—one that is not only intellectual, but also social, emotional, and moral—and that we're going to be a far stronger and more coherent place of academic and intellectual excellence than we've been.
More than 50 percent of Trinity's alumni support the College each year through the Annual Fund. That's an impressive statistic, and it shows that the alumni believe in what we're doing and want Trinity to be the best it can be. But it also charges us with a responsibility to work as hard as we can to make this a place of distinction—truly a benchmark school.
How will this curricular review bolster Trinity's efforts to become a benchmark school?
The best way to become a benchmark school is to be clear about outcomes—about what we mean by a liberal education—and to develop a set of criteria against which we'll measure those outcomes. By setting clear and high standards and objectives, we can better create powerful pedagogy, a powerful curriculum, and effective programs. It will also be essential to institute an assessment system to provide timely feedback to students on how they are doing, the end result being a much stronger academic enterprise.
If we do this, we will have evidence to show that we're making a difference. Furthermore, we will be one of the few schools in the country, if not the only one, that can actually demonstrate that we are making a difference to students in areas essential to being a liberally educated person. That's what will make us a benchmark school.
You've already participated, along with the Curricular Review Committee, in a series of dinners with the faculty, and I understand that you have been most encouraged by their response and participation. In what ways did those meetings help set the tone for the project and what did you take away from them?
I was encouraged that in each of the dinner discussions, faculty members said quite similar things about issues they felt were important to the curricular review. There was a lot of agreement. I am impressed—the faculty is as imaginative, as creative, as candid, as introspective, and as critical about the review process as one could ever hope. There is an amazing amount of honesty and candor, and you hear people saying, "we're not necessarily wedded to what we've been doing."
Are there any preconceived notions or directions that you feel need to be validated or critically examined during this process?
Everything is on the table. Everything we're doing is being questioned. We're asking ourselves what we are doing well, and we're also asking ourselves what we aren't doing as well. We're asking, "What do we do best and what should we retain? What do we really believe is a strong program? What will make this a benchmark school?"
In the Winter 1999 issue of Daedalus, the journal of the American Academy of Arts and Sciences, you wrote, "The best education takes place at the nexus of profound intellectual and social/emotional development. Yet most colleges and universities dichotomize the various facets of learning, as if our intellectual, emotional, and ethical lives were compartmentalized." Do you see such dichotomy at Trinity, and if so, how will the curricular review foster what you refer to later in the same article as "a more global or holistic version of education?"
Imagine a course on the sociology of poverty where you read the best books and you teach a great class. That's primarily an intellectual experience, and you can teach some interesting and important things that way about the topic. But imagine what happens if students in that same class go into the city and actually experience the subject matter—meet families, work on public policy, go to city hall, and deal with the true nature of poverty. Imagine if students have to test theory by going into the city and bringing back to class new "facts" and understanding to determine if the theory makes any sense or if reality contradicts it.
Invariably, they will find in this process all kinds of moral problems. Take, for example, people who steal food because they're hungry: Would you turn them in? When you start bringing these dilemmas back to class, you create an intellectual, moral, and social educational experience, the nexus of which is much deeper learning than when you offer only the intellectual component. Most colleges are afraid to raise moral questions as an inherent part of their curriculum, because most people are not trained to deal with moral issues. Moral questions are difficult because they don't have simple answers. The whole notion of ethical and moral development is something about which we are going to have to have more conversation.
Actively engaging students in and out of class, on campus and off campus, leads to a more powerful kind of learning than traditional or passive learning. Take robotics, for another example. Engineering students learn about how to make things work, electronically and mechanically, and they do it in theory and they even simulate it on computers. But imagine becoming involved in a robotics contest, as Trinity students do, where the professor says, "This class is going to break up into teams to develop a robot that can seek out and extinguish a fire. And, by the way, you're going to enter your robot in an international competition when it's done." We do that now at Trinity!
Can we optimize the nexus of intellectual and social learning everywhere in our curriculum and do it in a much more demanding way? I believe so.
What do you personally want to see come out of this review?
I want to see a curriculum, a pedagogy, and a spirit far beyond what we already have now. On most campuses, students separate their social, moral, and academic lives. We need to explore ways to relate their learning to everything around them, so the ecology of learning is much more integrated, exciting, and rewarding, and so that everything on campus is, in a sense, a dynamic classroom or laboratory.
Through Trinity's successes of the past five or six years, the College has put itself in a position to have this conversation at this time. Trinity has publicly demonstrated its strengths—strong faculty, strong students, and an urban setting in which we have rethought our existence.
We've created a wave and we need to catch it and ride it with control, rather than letting it take us wherever it goes. I think most colleges simply say, "we're not good enough to ride the big waves." I want us to become the best surfboarders in the world. This is the moment to catch the wave.
An Interview with Miller Brown, dean of faculty and chair of the Curricular Review Committee
The benefits of the curricular review may be clear to those of us on campus, but how should the alumni community expect to benefit from such a process?
We hope they will have a sense of the vitality and energy of their institution as we increase their pride in their alma mater, and the confidence that the College is worthy of their continued support. Indirectly, people whom they'll want to send to the College, perhaps their children, will come as a result of seeing Trinity as the best college in the country.
How will this curricular review enhance academic excellence at Trinity?
We don't know yet, but it is a top priority of the review that we begin to explore ways to change the intellectual climate so that students will feel more engaged, more part of an intellectual experience, and find it more compelling. There are a number of ways this might occur. There may be more of an emphasis on collaboration in research and exploration of knowledge by students and faculty, more of an out-of-classroom range of activities and experiences that students will be part of, more intense learning experiences like senior projects and theses, or perhaps more collaborative work among students themselves. There are a number of ways in which the sense of intellectual excitement can be augmented and encouraged. Pedagogy—how things are done—and with what energy, excitement, and sense of challenge and engagement, is a key measure of what a successful curricular program would be. The question is, what's suitable for Trinity? How does the curriculum build on our strengths and how, and in exactly what ways, does it create the environment in which students and faculty members are energized to make this a more intellectually vigorous, imaginative, and interesting place?
Did your initial meetings with the faculty provide insight that may guide the curricular review, and, likewise, will the curriculum review result in new direction or guidance to the faculty?
What the faculty grappled with in these meetings is that what the College is—the quality of its programs, the excitement and imaginative level of engagement, and the challenge that students face—is up to them. A faculty member at one of the dinners said, "I came into this meeting feeling rather skeptical. I'm leaving feeling optimistic. I want to tell the committee to be bold." That is, really come up with something. Don't hold back. Make some suggestions that can really jump the institution into the next notch of curricular innovation and the thoughtful exploration of how to teach. So I've encouraged the committee to take that as their motto. "Be bold!"
There is another very interesting motivation for the curricular review and that is to give guidance to the faculty on its future. In the next 10 years, there will be a turnover of 30 or 40 faculty members. There will also be an increase of about 10 new positions. This means that somewhere around a fourth or a third of the faculty, 10 years from now, will be different from who they are now. That's quite an extraordinary changeover. So one question may be, who should the new faculty—as they gradually come to the institution—be? One thing we hope to do by the end of the review process is to have guidelines for the direction of faculty recruitment and hiring and the ways in which the professional life of faculty members ought to be structured and organized.
What do you personally want to see come out of the review?
There are several areas that any well-educated person must have some knowledge about, as well as some understanding of how to continue to learn. We are a scientific and technological society. I think all students need to understand something about the scientific knowledge that frames our culture and the processes by which scientific knowledge is acquired. We are a democratic society and one that is undergoing profound changes demographically. The ethnic, racial, and religious composition of our society is undergoing fundamental changes. Our students need to graduate with an understanding of those processes and the history that has led to them. They need to have as profound a sense of the importance of class, race, division, and the city as possible and of how these things will affect the evolution and success of our democratic institutions. Every student who graduates from Trinity ought to be able to express and articulate and defend a theory of social justice or race. We also need to think more clearly about the extent to which we adequately prepare students for living in not only a much more diverse and changing national context but also for understanding the profound changes in the international area of globalization.
How do you feel this review is going to affect the way the faculty teaches?
It's not so much how this will affect individuals as how it will affect the collective sense of teaching. My colleagues are fine teachers. The review may well influence the overall character of teaching, the overall commitment to teaching. I hope it will raise the bar and ratchet up the level of intellectual life, so there won't be any place where students are not being asked to be fully engaged in the life of the mind. In the future, if a Trinity student hears Trinity called a "party school," he or she will just laugh and say, "you've got to be kidding."
The Curricular Review Committee welcomes feedback and recommendations from alumni about curricular issues and about any aspect of teaching and learning at the College. Communications to the committee may be sent to: Curricular Review Committee, c/o Dean J. Ronald Spencer, Trinity College, Hartford, CT 06106; or e-mailed to ronald.spencer@trincoll.edu.
________________________________________________________________________________
The curricular review committee is composed of faculty, administrators, and two students.
Chair
Miller Brown, dean of faculty
Faculty members
Joseph Byrne, associate professor of fine arts
Dario Euraque, associate professor of history
Sheila Fisher, associate professor of English
Suzanne Gleason, assistant professor of economics
Sarah Harrell (representing the GEC), assistant professor of classics
Frank Kirkpatrick (representing the EPC), professor of religion
Richard Lee (representing the Curriculum Committee), Brownell Professor of Philosophy
Margo Perkins, associate professor of English
Katharine Power (representing the Curriculum Committee), associate professor of theater and dance
Richard Prigodich, associate professor of chemistry
James Trostle, associate professor of anthropology
Melanie Stein, associate professor of mathematics
Administrative staff members Richard Hersh, President
Ron Spencer, Associate Academic Dean
Steve Peterson, Associate Academic Dean
Kent Smith, Director of Institutional Research
Student members
Trude Goodman '03
Kari Ann Sweeney '03
Trustee liaison
Philip Khoury '71