And what about the students—are as many of them actually using the library in person when so much can be accomplished online from a dorm room? "Ever since the new building opened in 2003, the library has been the center of the campus," Ross says, "and it continues to be the main gathering place. Students come to the library for a multitude of reasons, some for social connections, others to study together in groups, and others to undertake quiet study. In some respects, technology—such as gaming, TV, iPods, and mobile phones—has driven students into the library to claim a true 'study space' where they will not be distracted by unregulated technology."
As the Trinity library moves to incorporate the latest forms of technology, it seems that we still respond exactly as Rilke suggested. It is still good "to be among people who are reading," no matter whether they are reading words on paper or words on the screens of computers, electronic readers, or cell phones.
Richard Gager '43: An endowed fund for the Library
The story of Trinity alumnus Richard Edwin Gager, Class of 1943, who passed away in 2007, took some interesting twists and turns along the way. Evidence of one is in the stacks of the Trinity Library, in the pages of There Is No Armour, a New York Times bestseller in 1949. While the novel by Howard Spring tells a fictional story, many who knew Gager at the time were aware that one of the book's characters, a handsome young officer, was modeled after him.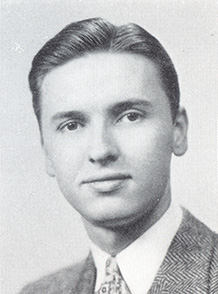 Gager's Trinity story began with his arrival on campus in the fall of 1939, at age 18. A student of modern languages and a swimmer, he became president of the Political Science club and treasurer of the Student Senate. During World War II, he volunteered for the U.S. Navy, serving in the North Atlantic—participating in the historic Normandy invasion—and later serving in the Pacific theater of operations. Honorably discharged as a lieutenant, senior grade, in 1946, he returned to Connecticut and began working for a small metal products manufacturer before relocating to Atlanta, Georgia, and embarking on a long, successful career in sales.
In preparation for celebrating his 50th Trinity Reunion in 1993, Gager summed up the years since graduation, describing his service in the Navy and how he formed his own sales agency, where he was occupied until his retirement in 1985. "Many pleasant memories of my undergraduate days at Trinity are still with me," he wrote. "Regretfully, my 50th reunion will be my first, but through the years I have been on campus from time to time and continue to be greatly impressed with Trinity's development."
His note may provide a clue as to the substantial gifts he quietly made to Trinity over the years, including three types of planned gifts, the full extent of which College officials learned recently, after his estate was settled. When combined with his giving to Trinity during his lifetime, his gifts total over $1 million, the majority earmarked to establish an endowed fund providing ongoing support for the library. Further, because family members saw how important Trinity was in his life, two other endowed funds have been established in his memory, the Richard E. Gager '43 Scholarship Fund and the Richard E. Gager '43 Chapel Support Fund.
Surely it would make Richard Gager smile to know the lasting impact he will have at Trinity—and to know that, included in the vast collection at the library where his dedication will be felt for decades to come, is a copy of the novel in which he made a cameo appearance.

Six ways the library is expanding its offerings
1. New ways to connect: Library staff members use blogs, Twitter, and social networking sites like Facebook to share information with students online. Visit the library's main blog at http://blogs.trincoll.edu/library/ for library news and events. Social networking reflects the increasing amplification on the Web of the social structures of information production and consumption. Also, check out "Learning Connections" (http://library.trincoll.edu/connections) for examples of staff and faculty members collaborating on classroom activities that help students build information-literacy skills.
2. 24-hour zone: Students were clamoring for all-hours access to the library, and a 24-hour zone introduced last fall has met with rave reviews. Located in the reference area on Level A, the 24-hour zone is a spot where library staff members arrive each morning to find students huddled over laptops and books, immersed in their studies.